These days, time is the currency that can make or break business success. 
Just like a finely tuned clock, efficient time tracking can help projects stay on schedule and budgets remain intact. 
This brings us to Harvest, the time tracking solution that claims to be the heartbeat of productivity for businesses and freelancers alike.
But as with any tool, it's essential to peek behind the curtain and see if it truly lives up to its promises. 
So today, that's exactly what we're going to do. 
From features, through pros and cons, all the way up to reviews and worthy alternatives.
Let's get right into it.
What is the Harvest time tracking solution?
Harvest is a time tracking software that aims to streamline the process of recording and monitoring work hours for various tasks and projects. It caters to a wide range of users, including freelancers, small businesses, and large enterprises. The platform offers features to create projects, add team members, and log hours spent on specific tasks, promoting better project management and resource allocation.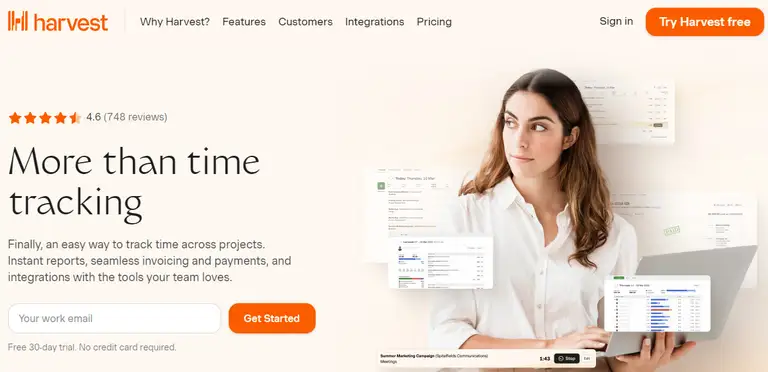 How to track time using Harvest?
Harvest provides a user-friendly interface for time tracking. Upon creating a Harvest account and filling all the necessary fields, you can create tasks and clients, as well as add team members.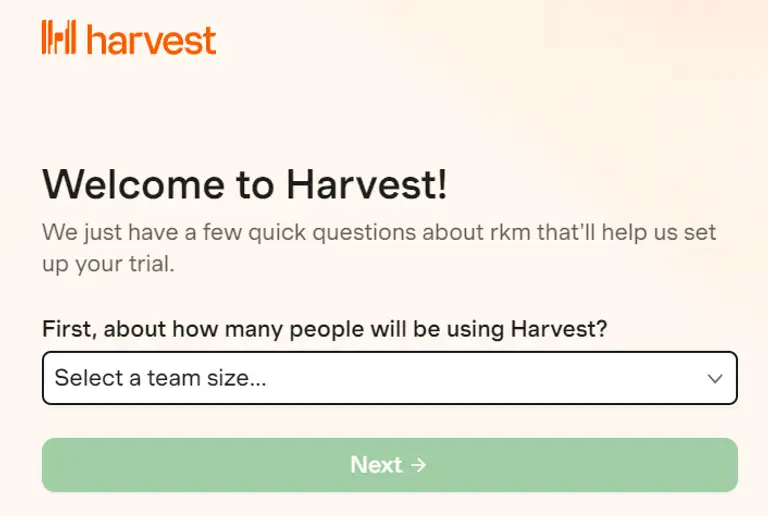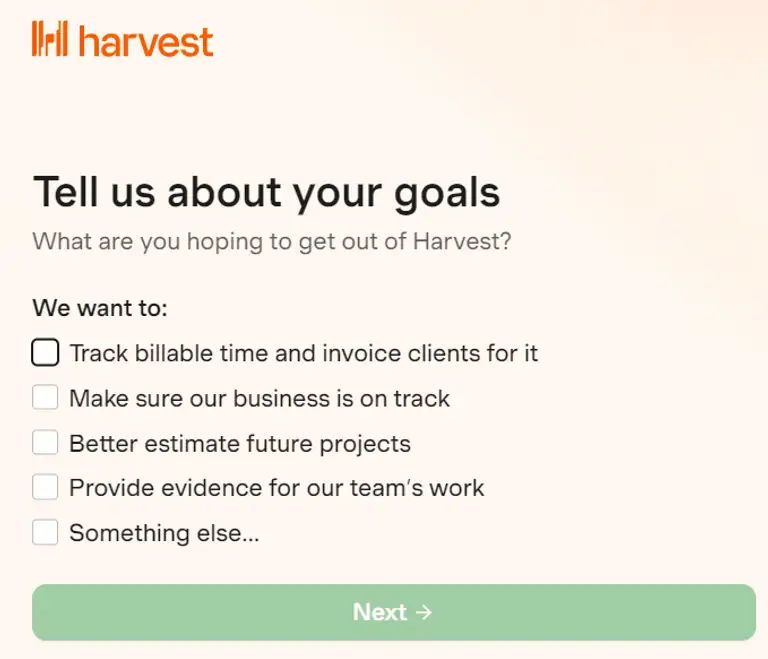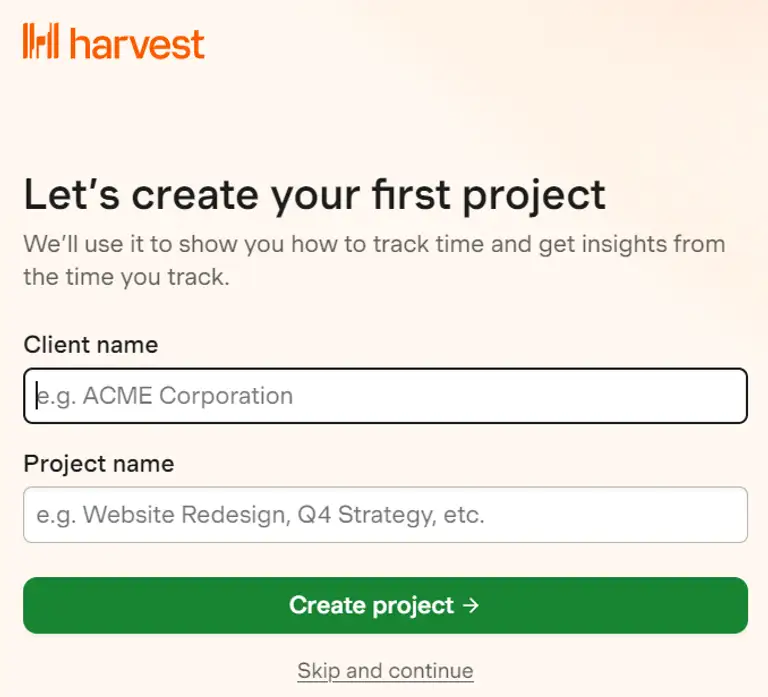 You can then record your work hours for each task. The process itself is fairly straightforward - you just press a button to start tracking time.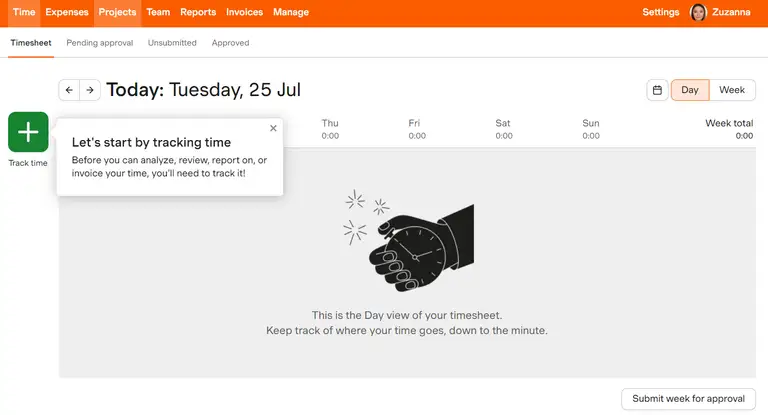 Harvest's key features
Once you're all signed up and your details are filled, you can begin exploring. This solution offers some specific features that might be of your interest.
Time tracking
The platform lets users record and monitor work hours with precision, ensuring accurate tracking of billable time. Enjoy knowing where projects stand.
Project and task management
Users can create projects, assign tasks, and add team members. Thanks to this feature it's easy to allow for facilitating streamlined project management and collaboration.
Integrations
Harvest integrates with various other tools, such as Asana, Slack and Trello. This lets users enhance their workflow efficiency and data synchronization.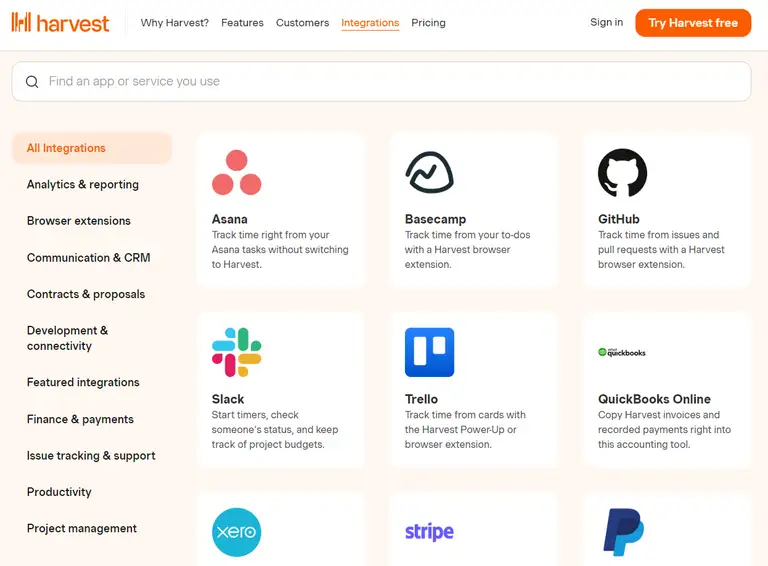 Expense tracking
In addition, Harvest supports the recording of project-related expenses. As a result, it's relatively easy to get comprehensive financial insights quickly.
Reports
Harvest generates insightful reports that help analyze project progress, employee performance, and resource allocation. Very convenient.
The pros of Harvest
After looking into the tool for some time, there's a few positive aspects about it that stand out from the crowd.
Ease of use
Harvest did a very decent job at boasting an intuitive interface. Thanks to that, users with varying levels of experience can enjoy using it.
Accurate tracking
Data is everything, and Harvest knows this. The software emphasizes precise time tracking. All so that users can record billable hours more efficiently.
Reporting Features
The platform provides customizable and visual reports that help analyze project progress, employee performance, and resource allocation. Users of Harvest can really get ready for some data-driven decision-making.
Expense Tracking
In addition to all of that, Harvest also supports expense tracking. If you need to manage a project's finances, this tool can help you with that. 
The cons of Harvest
However, it would be too good to be true if Harvest came with no shady sides. Let's see what those are:
Limited free version
First things first, the free version of Harvest does have some limitations. Thus, it may not fully meet the needs of users with stricter budget constraints. Plus, what's free usually costs more in the long run, anyway.
Pricing structure
While Harvest offers a free version with limited features, its pricing structure for premium plans isn't the most cost-effective for some small businesses or individual freelancers. The cost may increase significantly as the number of team members and projects grow. This makes it a less budget-friendly option for both small and larger organizations.
Learning curve for advanced features
Even though this time tracker's basic functionalities are easy to grasp, mastering more advanced features might require additional time and effort. You should decide if your organization is prepared for this.
Offline mode limitations
Harvest's offline mode is not as comprehensive as its online counterpart. If you're an user, you may face difficulties accessing certain features and data when working in remote locations with limited or no internet connectivity.
Mobile app limitations
Some users find that the mobile app lacks certain features available on the web version. Because of this, this solution may not be enough for those who have mobile devices making for a significant part of their job.
No geolocation tracking
Last but not least, Harvest doesn't offer geolocation tracking. Such a disadvantage can be a dealbreaker for businesses that require location-based time tracking for employees working on-site or in the field.
Harvest reviews
Having looked thoroughly through the tool's functionalities, let's take a peek at what verified users have to say about it.
Harvest has garnered positive feedback from users across the globe. 
Users most often appreciate its user-friendly interface, accurate time tracking capabilities, and the ease of integrating with other applications. 
On the flip side, some users have expressed concerns over the limitations of the free version and the learning curve associated with certain advanced features. 
It's also common to see negative comments associated with the tool's steep pricing, as well as its mobile-friendliness (more like a lack of it).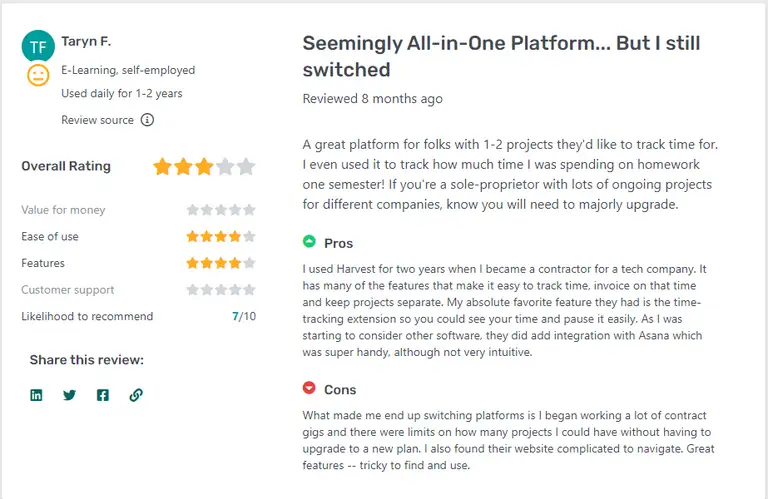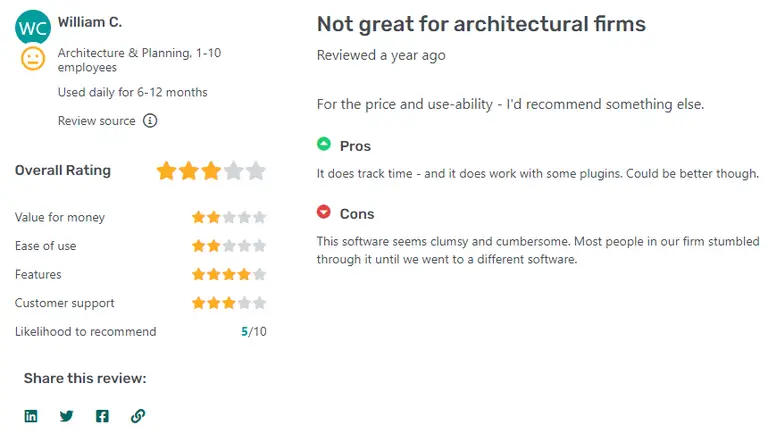 Overall, Harvest, for the most part, is a "just fine" solution which can definitely be improved here and there. 
Users with more sophisticated demands ought to seek alternative options.
Looking for Harvest alternatives: tips & best practices
If you're one of the people for who Harvest simply doesn't cut it, here's how you can find something better:
Define your requirements
Clearly outline your time tracking needs and prioritize essential features to find a solution that aligns with your goals.
Read user reviews
Research and read reviews from users of different time tracking tools to gain insights into their experiences and identify potential pros and cons.
Free trials
Utilize free trials offered by various time tracking solutions to test their functionalities and assess compatibility with your workflow.
Try Unrubble, a powerful time tracking software, for free today.
Consider integrations
Make sure that the alternative can seamlessly integrate with your existing project management, accounting, and other essential tools.
Scalability
Look for a solution that can accommodate your business's growth, handling more team members and projects as your organization expands.
Your best Harvest alternative: Unrubble
Unrubble emerges as a superior and more powerful alternative to Harvest. That's because it offers a comprehensive set of features that streamline workforce management. 
First of all, you're sure to appreciate our work time tracker. It allows for monitoring of real work hours, including overtime and breaks. All while eliminating early clock-outs and chronic lateness. 
Our platform's work schedule maker simplifies staff scheduling, replacing laborious Excel spreadsheets. 
What's more, thanks to Unrubble's online PTO and leave tracker, planning vacations and managing time off becomes effortless.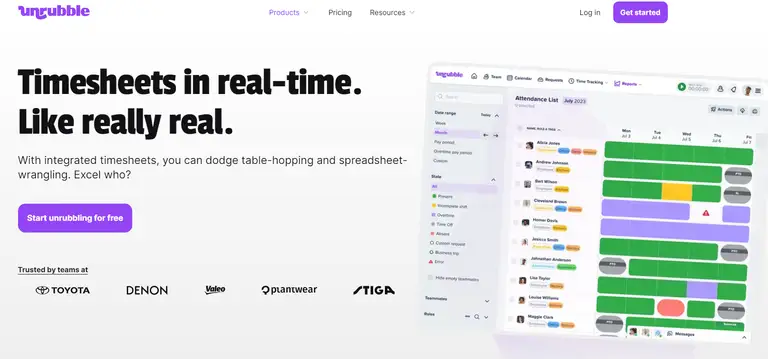 But that's not all… 
Unrubble's business travel management feature enables efficient delegation of employees and discussion channels for business trips, all stored in a dedicated place. 
Our solution's focus on automation and digitalization ensures time and money savings, generating lists and reports in real-time with one click. It's that easy.
What else can we offer?
✅ fully functional mobile app that transforms smartphones and tablets into mobile work time clocks 
✅ offline more for safe data storage,
✅ the highest level of security,
✅ GDPR compliance,
✅ identification via QR codes,
✅ automatic clock-in s and outs,
✅ excellent support,
✅ automated reminders.
Businesses worldwide trust Unrubble, with over 150,000 satisfied users benefiting from its all-in-one workforce management solution.
You can join them by signing up for a free trial today. You won't regret it.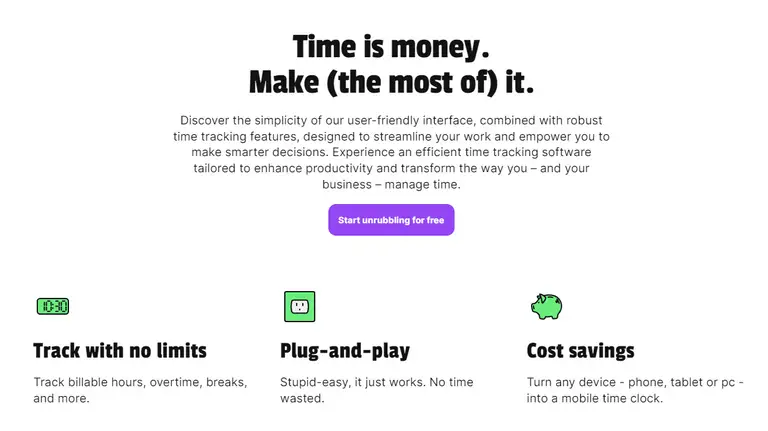 Wrap up
And just like that, the time's up. 
We hope you enjoyed our thorough review of this beloved time tracking application - Harvest.
It was made to help you pick the right solution for your needs.
As said before, Harvest is that tool that looks great on the first glance, but upon looking deep - some issues are visible. 
If you're up for one that is 100% reliable and with no unpleasant surprises, Unrubble is waiting for you. 
Good luck with time tracking!
FAQ
What is Harvest?
Harvest is a time-tracking software designed to help businesses and freelancers record and manage work hours, track expenses, and generate invoices for clients efficiently.
Does Harvest charge for the tracked time?
No. Harvest doesn't charge users for the tracked time. Instead, it offers a free version with limited features. As of July 2023, their paid plan costs $12 per seat per month.
Can you create invoices using Harvest?
Yes, Harvest account owners can create and generate invoices directly from the tracked time and expenses from their project budgets. The platform offers a built-in invoicing feature that simplifies the billing process for businesses and freelancers. Users can customize the invoices with their branding, add project details, and specify billing terms before sending them to clients for payment.
Is Harvest a good solution for time tracking?
The Harvest timer can be a suitable time tracking solution for certain businesses and freelancers. Its user-friendly interface and accurate time tracking features make it effective for many users. However, some find limitations in its management capabilities and customization options, which may not fully cater to their specific needs. As a result, some users opt to explore other alternatives that offer a more comprehensive set of features.
What are some powerful Harvest alternatives?
One powerful alternative to Harvest that stands out is Unrubble. Unrubble offers a more robust set of features, including advanced management tools, resource planning capabilities, and comprehensive reporting. Its intuitive interface and scalability make it an attractive option for businesses and freelancers seeking a comprehensive productivity solution to track time.
What makes Unrubble more powerful than Harvest?
Unrubble stands out on many levels. They include an intuitive interface, advanced project management, mobile device and desktop app capabilities, billing process, the depth of insights, making it a robust choice for time tracking and productivity.
If you found this post useful #share it: