When it comes to the working week, it can be important to not only ensure that all employee's hours are properly tracked but also that time is efficiently spent and productivity functioning at maximum capacity.
One of the best ways to keep on top of these factors is to implement a different set of rules for the hours worked - and bringing billable hours into your current business processes could be just the solution you're looking for.
What are billable hours?
When you're asking "What are billable hours" you may come across conflicting information. In terms of everyday businesses and employees, the term actually refers to the specific hours worked that are billed directly to clients.
When you define the exact hours spent on projects and bill the clients accordingly, you will ensure that you provide the most affordable rates without sacrificing quality. There are a host of benefits that come with billable hours meaning that you will be able to:
Perform the actual work needed for the project in question without wasting time

Better plan projects and have a higher utilization rate in your business

Develop project timelines

Create an editable billable hours chart

Conduct worthwhile research regarding specific client needs

Keep on top of client work emails

Revise and analyze all work submitted to the client to ensure everything meets the standards they expect
What is the difference between billable and non-billable hours?
Just as there are billable hours, there are also non-billable hours - and it can be important to define the differences between the two. At the most basic, billable hours are the hours dedicated to the project in question, whereas non-billable hours are any hours spent on non-client-specific tasks. Here are some examples to help you make the right distinction:
Billable hours include the time spent on:
Client communication; including phone calls, video team meetings, text messages and emails

Client development and planning sessions

Project-based revisions

Client-centric research
Non-billable hours include time spent on non-billable activities such as:
Business marketing processes

Networking and employee training events

Internal team and other non-billable meetings

General business planning

Administrative tasks and office management procedures

Creating proposals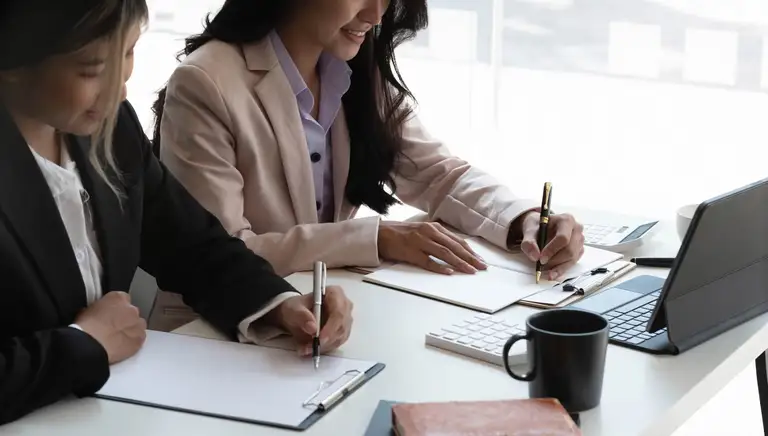 In short, non-billable work is not bad and it's actually necessary to run a business with a good cash flow. However, you must ensure that you hit your billable hours target to be profitable. A non-billable task every now and then is necessary if you want to get to actual profits.
How to calculate billable hours
The process for calculating billable hours should be standardized to minimize errors and ensure everything is done properly. Before we look at worthwhile automated tools, let's take a look at the typical steps that need to be performed when calculating billable hours:
Set an

hourly rate

based on the client's needs and budget

Track billable hours per week/month on a

timesheet

Add up the hours tracked for each time entry

Multiply the total by the set billing rate

Add any necessary fees or taxes to the final client's invoice
In terms of automated software, it can be a good idea to use a digital billable hours calculator to simplify the overall process of billing clients and a work time tracker can help you to define the exact hours spent by automatically logging specific processes (like hours spent on the phone with a client).
Why you should calculate billable hours
You should calculate billable hours in order to ensure you bill clients correctly for the work performed. When you do this successfully, you will be better equipped to send out invoices on time, prepare accurate estimates, correctly pay your employees for work undertaken, prepare accurate budgets for upcoming projects, better track overtime for individual employees, and more.
Perhaps more importantly, you'll have better client projects and happier clients.
Whether you're a business owner with a law firm or a marketing agency CEO, billable hours are a standard practice that will facilitate business growth and make future projects better for everyone involved.
Also, it will show you non-billable time in contrast with billable project activities so that you're better aware of where your time is spent.
How to effectively track billable hours
When you want to track billable hours more effectively, it can be important to:
Define an hourly rate
The first thing to do when tracking billable hours better is to define an hourly rate. The best way to do this is to set aside some time to determine what the typical annual salary for individuals in your niche is and create a target salary to match.
Divide this number by the total amount of working hours per year, which is typically stated to be around 2,000 hours for a full-time job. This will give you an estimated hourly rate that you can tweak to meet the needs of your business and clients.
Otherwise called billable rates, these are the numbers that should be your primary guideline when scoping out new jobs and setting rates for clients and employees.
Create an invoicing schedule
It can be a worthwhile idea to set an invoicing schedule that will define the times when invoices will be sent out and when you'll be paid. Most businesses use a monthly billing cycle that goes out on the last day of each month to keep things simple.
Create a time log
The right time log will allow businesses to track their billable hours by the client either manually or digitally, depending on your current software capabilities and needs. It may be time to consider implementing or upgrading software like a billable hours tracker to streamline this process. Time tracking apps like Unrubble can do a lot of the heavy lifting here.
Calculate your total billable hours
It will be time to calculate your billable hours at the end of the billing cycle or when the client's project has been completed and sent off.
Create a detailed invoice
A detailed client invoice should include the following information:
Your business information (be sure to include your business's name, address, phone number, email address, and logo

Your client's contact information

An itemized list of all the professional services provided during the project

The billable hours for each service performed

The deadline for payment

Your business's specific payment terms

The total amount due, including any and all applicable taxes
Is it a good idea to implement billable hours into your businesses?
The short answer is yes, implementing billable hours can be an extremely worthwhile idea if you do it properly.
Billable hours best practices can include identifying lower-rate and higher-rate billable hours and then delegating them accordingly to the right automated processes and members of staff who can best perform them.
It may be time to consider automated software that will allow you to properly assign tasks, set time frames and deadlines for maximum business efficiency and monitor employee progress in real-time. This can help your business to increase output, maximize profit potential, better manage time, better dedicate efforts, and much more.
If you're looking for dedicated time tracking software, give Unrubble a try! With Unrubble, you'll have a digital time tracker that works whether you're in an office, hybrid or working remotely. Our time tracking tool is built for businesses of all sizes and needs.
Wrapping up
No matter if you run a traditional business, an agency or if you're a freelancer, determining the difference between billable and non-billable hours is crucial if you want to increase efficiency and profitability. Finding out where your non-billable time goes is crucial if you want to get more value from your time, for yourself and your customers and clients.
And if you don't want to do it the hard way, use time tracking instead! With Unrubble, you can just start a timer and start measuring where your time goes with one click. At the end of the day or week, just take a look at your time sheet, and you'll spot where your billable and non-billable time goes.
Sign up today for free to get started!
Billable hours: frequently asked questions
What is an example of a billable hour?
A billable hour is any hour that you've done actual work for your client that you can charge them for. For example, legal professionals can charge for the time they've spent in court or in client meetings. A law firm cannot charge for administrative tasks
How many hours per week can be billable?
No matter what you do, you probably cannot bill 40 hours per week. Separate the billable and non-billable work and you'll come to a number of around 30 hours per week that you can charge for. It's useful to track time if you're not sure about billable and non-billable tasks and how much they take up of your week.
What's a good percentage of billable hours?
It depends on the billable hours model you're keen to use. However, aiming for 70-80% of billable hours is a good rule of thumb.
If you found this post useful #share it: