A time tracker software is an essential tool for any construction project. You need to know how long tasks take and what is the current project progress.
This helps you manage labor costs, plan better, and keep your projects on track. Managing all of this through spreadsheets or paper notebooks, though? Impossible. With a time-tracking app though, you don't have to ask each employee how long a task took - you'll have everything right inside the app, automatically updated.
But with so many tools out there, how do you pick the right one? We've narrowed down the best construction time tracking apps to make it easier for you to find the right one for your needs. 
Why do construction businesses need specialized time-tracking apps?
For many industries, getting one of the many general employee time-tracking tools is more than enough. 
For construction companies though, the regular apps are often not enough as they don't have the the key features they need to track time on a job site effectively. Let's look at some of the features that construction employees' clock and time-tracking apps should have:
Time clock kiosk
Construction company teams often work in several locations throughout the city or country - and that might make regular clocking in and out quite inconvenient.
A dedicated time clock app enables remote workers and employees at different job sites to easily clock in and out, ensuring that managers can keep an eye on their workers' work time and performance across multiple locations. 
It's even better if the app had features like facial recognition or QR code clock-in, as those make clocking in and out a breeze. 
GPS location tracking
GPS tracking allows construction company owners to monitor the exact locations where their workers are completing tasks. 
With this feature, construction managers can make sure that employees come to work on time and are working at the correct location. 
Time trackers like Unrubble even allow managers to set a designated area where employees will be automatically clocked in once they appear at the location - and clocked out when they leave the geofenced location.
Task and project management
The time tracker software should also allow construction firms to assign specific tasks to workers and link them to specific projects. 
For example, they can assign a task like "installing steel beams" to a team member working on the "Office Building Project." 
Being able to add those in real-time and instantly inform the workers about the new tasks and changes in schedule is especially important.
Offline mode
Construction sites very often have limited connectivity, so a general time tracker that relies on an internet connection to track time might not work well there. 
Having offline mode in the app ensures that workers can log their hours and progress even without internet access - the data will be automatically synchronized once the internet connection is back. 
This way, workers can keep track of their work easily and managers will have accurate time data in their timesheets.
Photo and document attachments
Being able to attach photos and documents to time entries can be useful for construction workers, especially those working away from their main office. 
For example, workers can snap pictures of completed work to prove their tasks are finished or send photos of issues they want to report to the managers. Managers could also include a task checklist or manuals for new workers to make it easier for them to understand what their tasks are and complete those.
Integration with payroll software
A good time-tracking software can also make creating, processing, and sending payrolls and invoices much faster. For example, the tracker can calculate the wages of each employee based on their logged billable hours and then automatically create invoices and payrolls based on the data.
Customizable reporting
Construction companies often also need detailed reports for various stakeholders - but creating those manually takes far too much. 
A customizable reporting feature can make creating those reports far faster as it can take data on labor hours, project progress, cost codes and anything else that the clients or project managers might need.
9 Top Construction Time Tracking Software
Basic time-tracking apps might not have all those features inside them - so you might have to use several different apps instead of one, such as a construction timesheet app together with payroll processing and time-tracking software. 
But do your project managers and workers have time to juggle so many apps? Possibly not.
So let's now explore the 9 time tracking tools that construction companies might find useful. We also looked at reviews from Capterra, TrustRadius, and Getapp to see what users had to say about those tools.
Unrubble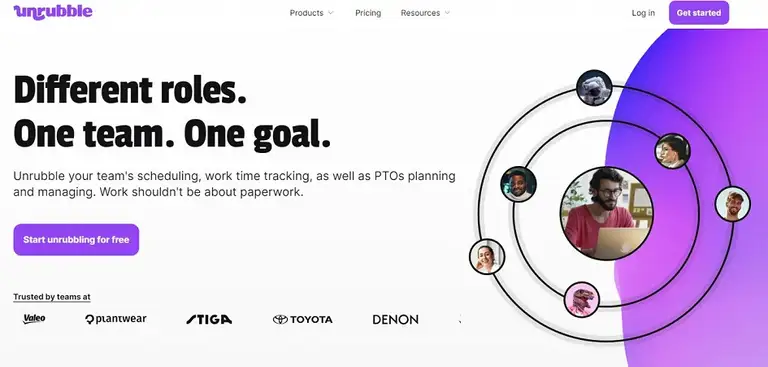 Unrubble is an all-in-one time clock app that can help businesses from virtually all industries (including construction) streamline their projects and improve communication with their staff. From work-time tracking and PTO tracker to project scheduling and employee clock-ins - everything is inside one application. 
That's why over 149,950 happy customers, including brands like Toyota and Denon, rely on Unrubble for time tracking and management tasks. There are also a few features that make Unrubble a great construction time-tracking app:
Features construction companies will find handy:
QR code registration

: Instead of ID cards, your workers can use a unique QR code and scan it to register their work time.  

Facial recognition

:

Unrubble's AI-powered face recognition algorithm can instantly verify the identity of each employee clocking in. 

Geolocation

: Do your workers need to work on a location? With the GPS tracking feature, you can make sure that all your employees are working exactly where they should be.

Offline mode

: A lack of internet connection is no problem for Unrubble. The app can keep storing the time tracking data even when offline and then synchronize it when the internet connection is available.  
Advantages:
Super easy clock-in and out for employees, no matter where they are or what device they use.

Real-time timesheets with which you can keep track of your employees' work time, leaves, schedules, locations, and anything else you might need.

Unlimited work statuses - you can set them exactly as you want and how many you need.
Disadvantages:
It might require some time for users to get accustomed to how the features work.

Capterra reviewers mention they encountered some bugs in the software but also that they were all fixed quickly.
If you want to check how the time tracking solution works, you can start from the forever free plan with unlimited users - and then move on to paid plans when you are convinced. Or you can try out the 14-day trial with all advanced features included.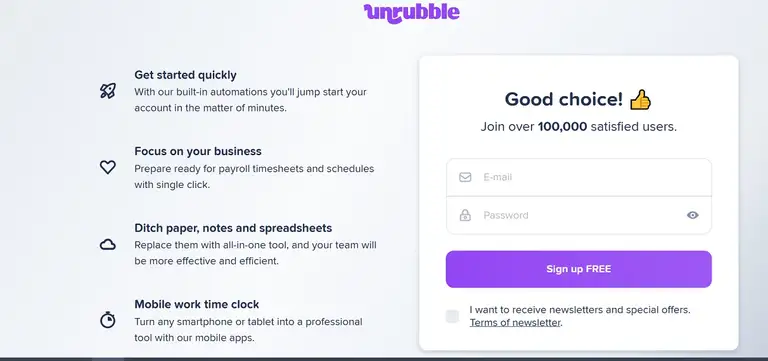 The second construction time clock app app is Prodio. Prodio is a comprehensive management software specifically designed for small and medium-sized manufacturing companies, but it can be used in the construction industry as well.
Features construction companies will find handy:
Project management:

Construction managers can create project schedules, assign employees to them, and then track the progress and deadlines right on their dashboard.  

Detailed project schedules:

Managers can add any information to the schedule they need, such as task comments or links to documents or images the construction crew might need at work.

Automatic attendance and work time tracking:

Workers can register when they start or end work by clicking the "Clock-in" or "Clock-out" buttons inside the mobile app. 
Advantages:
The entire information about project progress (including estimated time until a given will be finished) is right on the dashboard. 

It can be used on multiple devices - regular desktops, mobile devices, and tablets.
Disadvantages:
The features inside Prodio are mainly dedicated to the production industry, so construction companies might find it a bit tricky to adjust to their needs.  

The app doesn't have an offline mode.
Hubstaff

Hubstaff is a comprehensive time-tracking and productivity management software designed for both on-site and remote teams, so you can use it to manage teams working on locations as well. 
Features construction companies will find handy:
Automatically updated timesheets:

Hubstaff creates and updates the timesheets based on employees' work hours, so you always have the latest information.

GPS tracking:

Thanks to geolocation, managers can track the location of field employees to ensure they are at the right job sites. The app can also automatically clock-in and clock-out the workers when they are at the site.

Supports multiple devices:

Crews can track time and check in from iOS, Android, Mac, Windows, Linux, and Chromebook apps.
Advantages:
The time spent can be divided into different activities.

Hubstaff can be integrated with Clickup, Quickbooks, or Freshbooks, to name a few available integrations. 
Disadvantages:
Some reviewers mentioned that they often had different work time counts in the employee app and the work reports.

The integrations on Win10 are said to be quite buggy.
Harvest

Another app construction company workers might find helpful is Harvest. Harvest is a simple time-tracking with which users can monitor the time spent on tasks and projects. 
Features construction companies will find handy:
One-click invoice generation:

The tracked time and costs can be quickly turned into invoices and sent to the clients.

Automatic data transfer to QuickBooks Online or Xero:

The data from Harvest can also be sent to accounting platforms (like Quickbooks) for simplified accounting.

Custom reminders:

For example, you can use those to remind your team to clock in and clock out in the app.
Advantages:
Multiple integrations available (for example, Xero and Basecamp).

PayPal and Stripe integrations allow clients to quickly and conveniently pay the invoices they get online. 
Disadvantages:
No clock-in and clock-out feature, so you might need another solution working as a construction time card app.

The free plan allows only one user and 2 projects.
Jibble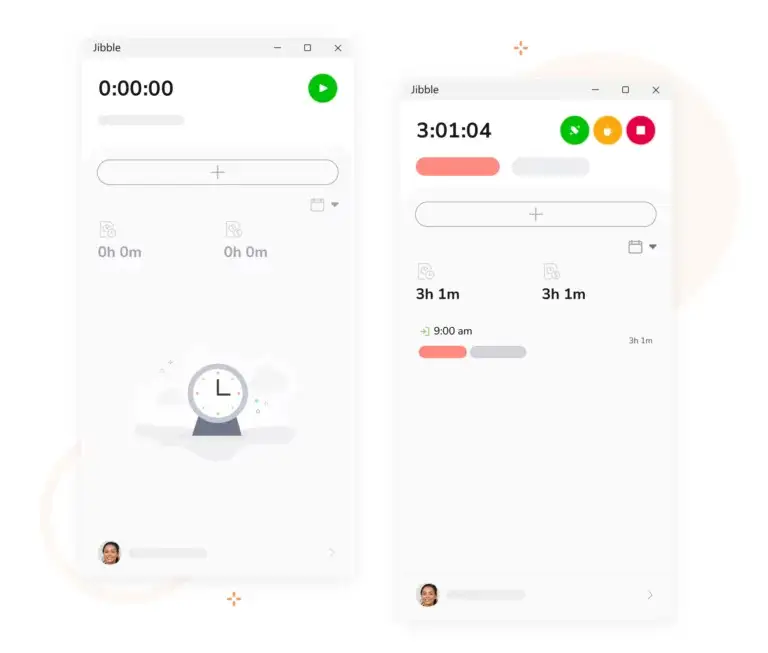 Jibble is a simple time clock app through which businesses can track their employees' attendance, work time, and performance.
Features construction companies will find handy:
GPS tracking:

Using geolocation technology, construction managers can keep track of where and how long their teams are working when on location.

Face recognition:

With Jibble, staff just need to show their face to their mobile or shared kiosk, and they've clocked in. Of course, they can still use NFC or RFID cards for registering to work as well.

Offline mode:

Jibble can keep gathering time data even if the internet connection is lost. Once back online, time data is automatically synced and added to timesheets.
Advantages:
Very easy to navigate and use.

Users can edit their own time-tracking notes (for example, when they forget to clock in or out). The edits will be visible in the app history.
Disadvantages:
GPS trackers sometimes get the location wrong.

The mobile app doesn't have the same features as the web app and is said to be a bit slow.
Clockify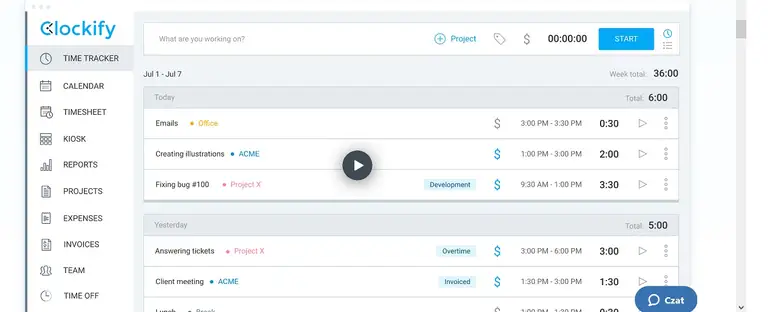 Clockify is another time-tracking tool that construction business owners can use to record how much time their employees spend on their tasks or construction projects.
Features construction companies will find handy:
One-button clock in and out:

To register that they are starting work, going on a break, or ending work, users just need to click the right button on the dashboard.

Workers' status right on the dashboard:

One glance and managers can see who is currently working, who is on break, and who left the construction site.

Geolocation:

Clockify will show you a map with all the locations where an employee clocked in, making it easier to manage multiple construction sites. 
Advantages:
A forever-free plan available.

Over 80 integrations included.
Disadvantages:
Some reviewers complain that the app can be buggy sometimes, and fixing the issues takes time.

The free plan only has the basic features included (GPS location, for example, is only available from the PRO level).
Connecteam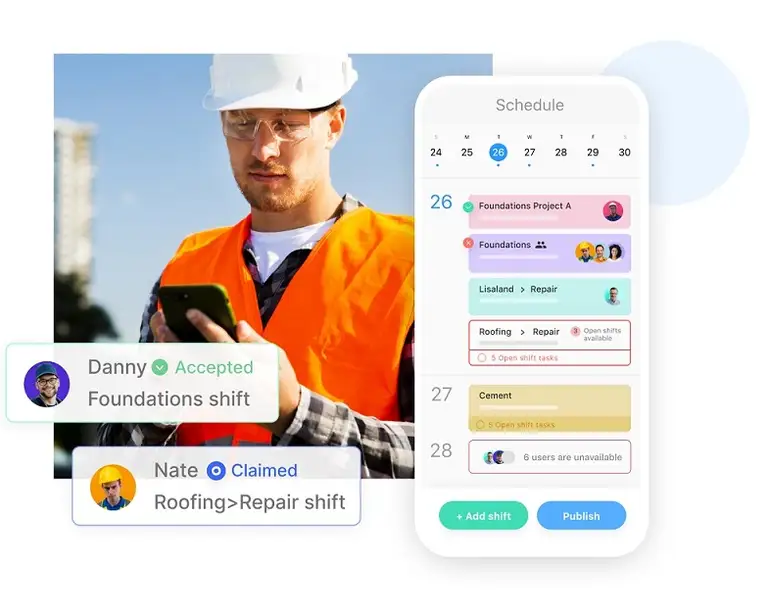 Connecteam is an all-in-one app for time tracking, task management, scheduling, and employee communication, giving users plenty of tools to manage their construction crew and tasks.
Features construction companies will find handy:
Pre-made templates for checklists:

Managers can use the templates to create handy checklists for repetitive tasks.

Several communication features:

through which you can share project updates or send surveys to the workers. There's also a dedicated chat app employees can use to quickly reach out to other workers or managers.

Mobile clock-in supported:

Employees can quickly clock in/out from their smartphones.   
Advantages:
Simple and user-friendly.

Plenty of customization features.
Disadvantages:
The app is said to be quite buggy (for example, it sometimes logs out itself).

Some reviewers complain that the pricing plans are quite confusing.
Timely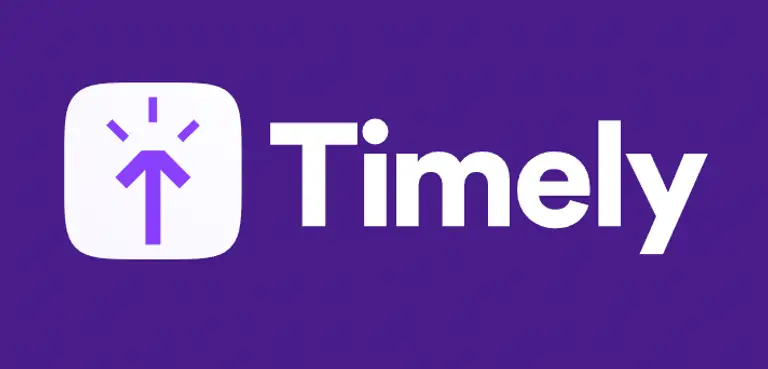 Timely is an AI-powered time-tracking and project-management solution that can automatically gather data from multiple apps (documents, meetings, emails, and video calls) and then turn those into one timesheet. 
Features construction companies will find handy:
Automated reports and invoices:

Timely can quickly convert timesheets into reports or invoices.

Billable time rate management

.

Automated reminders

.
Advantages:
Time, project, and team tracking and management in one app.

Multiple integrations are available (for example, Basecamp and Clickup).
Disadvantages:
The AI sometimes incorrectly recognizes and adds tasks.

A few reviewers mentioned that the app takes a bit of time to learn how to use it.
Buddy Punch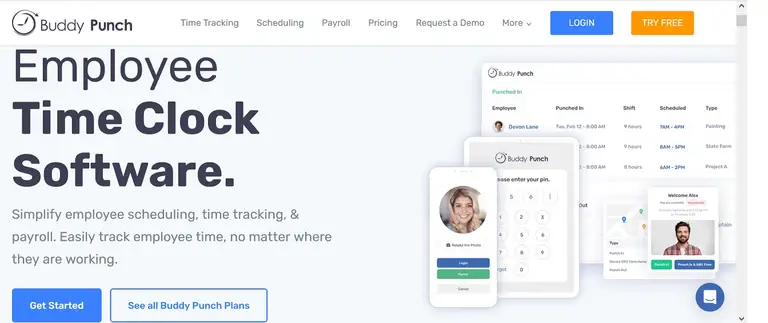 Buddy Punch mainly works as employee clock software, it also has a few additional features, such as payroll management and scheduling tools.
Features construction companies will find handy:
Worker verification:

Buddypunch will use either GPS or webcam images on each clock-in or clock-out.

Several work registering options are available:

Employees can register with 4-digit PIN, QR Codes, Facial Recognition, etc.

PTO calendar:

Built-in calendar that allows employees to book or request time off. 
Advantages:
Very easy to use.

Employees can edit their time punches if they forget to clock in or out (though opinions on whether this is an advantage or rather a problem vary).
Disadvantages:
The facial recognition feature is sometimes glitching.

Tutorial is said to be lacking.
Conclusion
With so many time-tracking tools out there, finding the right fit for your construction company can be a task in itself. 
What can help you spot the perfect app for you is noting down what features you need and then checking which platform meets your needs the most. Our list of top time tracking platforms should also come in handy. 
Out of those 9 tools, Unrubble is the app you need to smoothly manage your construction workers and projects since it has all the features you might need inside it. And guess what? They offer a free plan too! Try it out - maybe it will turn out to be exactly the tool you were looking for.
Frequently asked questions
Why does a construction business need time-tracking software?
A time-tracking app helps construction businesses record and manage the hours employees work on projects without having to monitor their work time manually. That makes it easier to keep track of tasks, monitor progress, and calculate payroll accurately.
What features should I look for in construction time tracking software?
You should check whether the software you are considering using has features like easy clock-in and clock-out, project/task tracking, mobile access, GPS location tracking, and integration with payroll systems. 
Ideally, all those features should be inside one application as otherwise, you might have to juggle multiple apps during the day, which might make monitoring employees' work hours and productivity much harder.
How does GPS location tracking benefit construction businesses?
GPS tracking ensures accurate location-based data, which will be especially useful for companies where teams work across several different locations. 
Geofencing features also can help project managers prevent situations where construction workers might clock in to work even though they aren't yet at the designated location or leave the area early without clocking out.
Is there a time tracking software that integrates with payroll systems?
Yes, many time tracking solutions offer integrations with popular payroll systems. Thanks to those, managers can automatically calculate workers' wages and create payrolls and invoices. 
Unrubble, for example, can be integrated with Quickbooks, Xero, and Square Payroll and automatically create payrolls and invoices out of the time tracking data inside its database.
If you found this post useful #share it: