Are you interested in making your workforce attendance monitoring smoother?
Buddy Punch might help you.
Learn all about this time clock and employee attendance app. From features and pricing, through reviews, all the way up to other options you can consider.
What is the Buddy Punch time clock solution?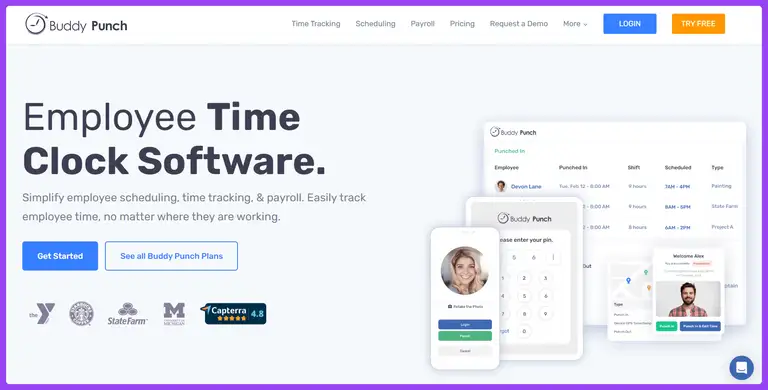 Buddy Punch is an online time clock and attendance measuring software. It simplifies clock-in and clock-out procedures for companies.
It's primarily used for noting employees' work hours, breaks, and attendance.
The tool allows people to record their work hours, either through a web-based interface or a mobile app. 
This solution has been available for several years, with its initial release dating back to 2013. 
Over time, it has evolved to include features like geolocation tracking, reporting, and integration with pay systems. 
This makes it a relatively valuable resource for organizations of all sizes to manage their workforce more efficiently.
Top Buddy Punch time clock features for your business: payroll & other
If you're considering using this solution, here are the features you can expect:
Time tracking
Buddy Punch offers time tracking tools designed to assist you in managing work hours. They are commonly used for tracking attendance, monitoring time-off requests, and managing overtime in real-time. 
This tool provides insights into employees' hours. As such, it allows for the setup of notifications when people approach their daily or weekly maximum hours. What's more, the time measuring feature promotes accountability. 
How? It's all done by capturing GPS data and webcam images during clock-ins and clock-outs. The result? You get to make sure that everyone is at their designated locations. 
Scheduling
This feature is used to simplify the management of work plans for both team members and managers. With its dashboard and various functionalities, you can create and update them quickly. 
Workers can view their plans and receive notifications through the app. The tool also offers perks like geofencing, punch limiting and availability monitoring.
Payroll
Using this option, people can manage salaries for small organizations. This automated system streamlines pay processing, reduces errors and saves time. Probably the biggest benefit is that it's accessible from anywhere. 
As such, it gives you the option to make accurate and timely payments. It also provides insights into useful data for informed decision-making. But that's not all. You can also take advantage of the self-service options to access pay-related documents.
Is BuddyPunch easy to use? See what people say
Reviews of this solution are a mixed bag, with a range of opinions.
Some users have expressed dissatisfaction with the tool. Common complaints include occasional glitches in the software, which can disrupt the user experience.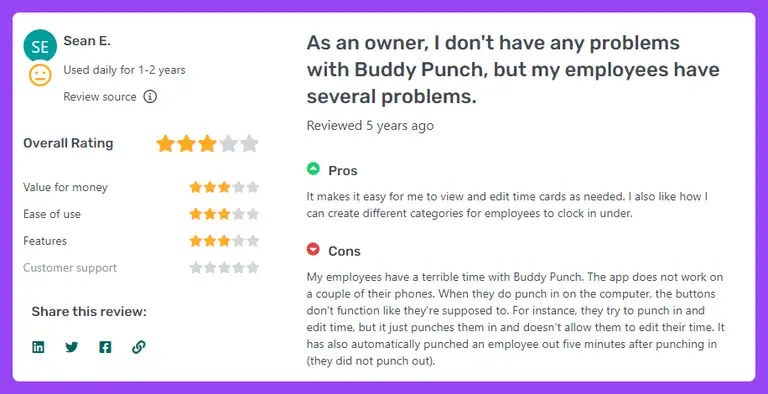 Some users also find the learning curve for employees to be steeper than expected. This leads them to initial confusion. Additionally, some reviewers have mentioned that customer support could be more responsive and helpful in resolving issues. 
While the tool has its strengths, such as ease of use for some, it's important to consider these negative aspects as well.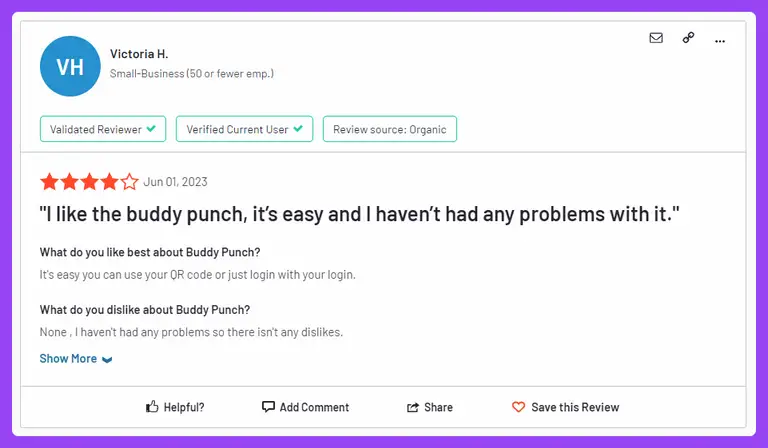 Reviews:
4.8/5 on GetApp, 4.8/5 on G2,8.1/10 on Trust Radius
Buddy Punch pricing plan information
Users have relatively clear and flexible pricing plans at their disposal.
Here's an explanation of their pricing structure*:
Standard plan
Price: $2.99 per user per month when billed annually (or $3.49 if billed monthly).
Base Fee: An additional $19 base fee per month.
Pro plan
Price: $3.99 per user per month when billed annually (or $4.49 if billed monthly).
Base Fee: An additional $19 base fee per month.
Enterprise plan
Price: The Enterprise plan's pricing is not disclosed on the page and requires contacting the tool provider directly.
Additional option
You can add accounting services to any of the above plans for an additional cost of $39 per month as a base fee and $6 per month per user. 
Billing and administration
Buddy Punch Clock offers both monthly and annual billing options.

The pricing is based on the number of active users in your account.

Administrators do not count as paid users, so you can have unlimited administrators at no extra cost.

You can make adjustments to your plan by adding or removing people during the billing period, and pricing will be calculated accordingly.
Free trial: Yes
Support and contact: Yes
Better employee time & attendance trackers
BuddyPunch is one of those solutions that are alright, but nothing more than that. So why not have something better?
Here are some powerful alternatives that may tickle your fancy much more:
Unrubble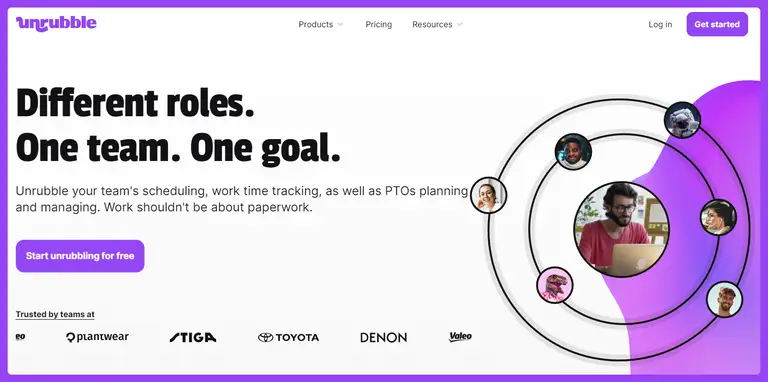 Unrubble is an absolute game-changer in the world of workforce management. It's a remarkable platform that seamlessly combines time tracking, scheduling, and PTO management into a single, user-friendly solution. 
What sets Unrubble apart is its unmatched simplicity and efficiency. It's incredibly easy to set up and use - on both desktop and mobile devices. 
This means you can focus on your core job responsibilities without being bogged down by paperwork and administrative tasks. 
Pros:
Offers advanced scheduling features like demand forecasting and AI-driven planning.

There are rich self-service options.

It's suitable for firms of any size with both little and complex needs.

Free trial & free plan are available, together with very budget-friendly pricing.

This tool is extremely easy to use and it's also bug-free.
Cons:
There could potentially be a bit of a learning curve, especially when it comes to the advanced features.
Why it's the best alternative: Unrubble is ideal for businesses of all sizes and with various scheduling requirements - it will definitely suit your needs.
Reviews:
4.9/5 on GetApp, 4.9/5 on Capterra, 5/5 on G2, 5/5 on Software Advice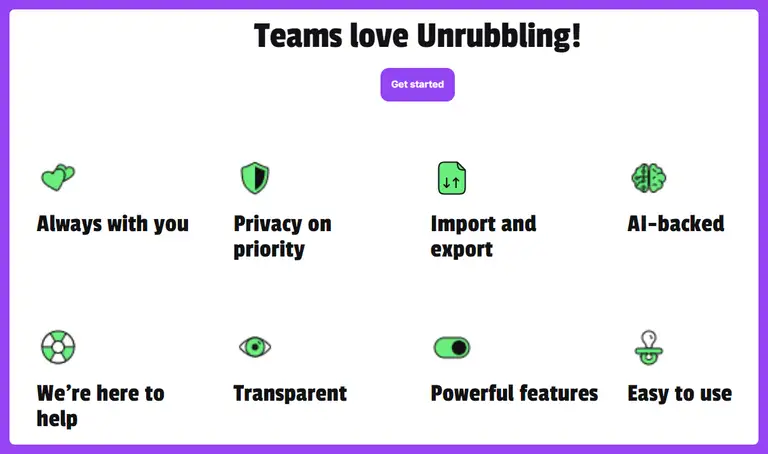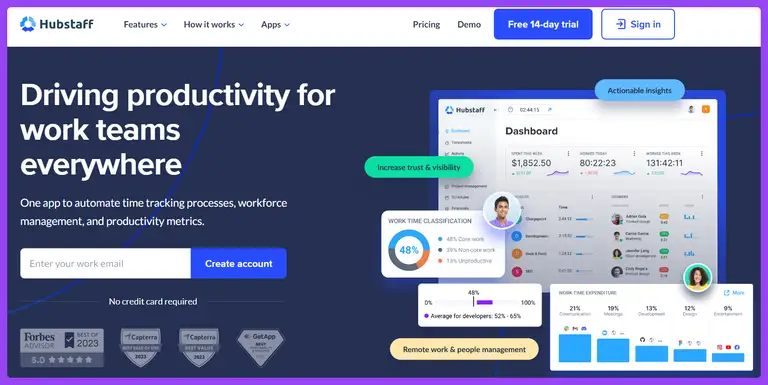 Hubstaff is a time tracking and employee monitoring software widely known on the market.
Pros:
Provides real-time productivity tracking.

GPS-based time tracking for remote and field workers.

Offers automatic integrations.
Cons:
While Hubstaff offers excellent time card and time clock features, pricing can become costly as you add more team members, particularly for larger organizations.

Some users have reported, e.g.

employees can punch in

their attendance but it doesn't show up in the system.

The website uses cookies to store user details, which may be a concern for privacy-conscious individuals.
Why it might be a good alternative: Hubstaff is better suited for businesses that require comprehensive employee monitoring and real-time productivity tracking.
Clockify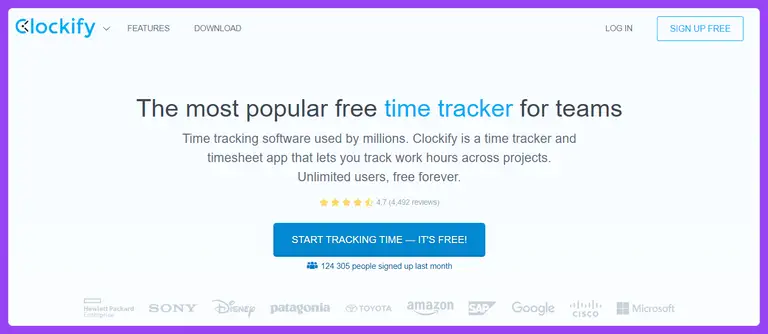 Clockify is a free time tracking and timesheet software with paid upgrades.
Pros:
Offers a free plan for basic time tracking needs.

Simple and user-friendly interface.

Integration with popular project management tools.
Cons:
Clockify provides comprehensive online time tracking, but limited customer support options, especially for free plan users, may lead to frustration when encountering issues.

The lack of advanced reporting features in the free plan can limit users' ability to access detailed information.
Why it might be a good alternative: Clockify is better for businesses on a tight budget, as it provides a free plan for basic time tracking needs. However, it may not offer the same level of accounting features.
Jibble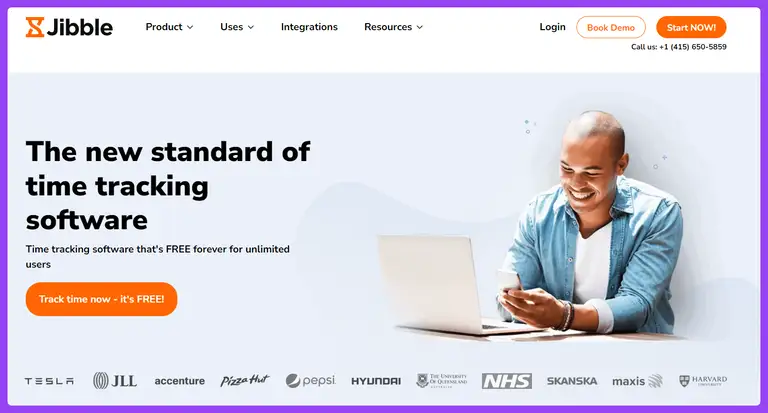 Jibble is a time and attendance tracking software with an emphasis on remote workforce management.
Pros:
Geofencing and photo verification for remote workers.

Suitable for managing a distributed workforce.

Integration with popular collaboration tools.
Cons:
Jibble may not provide the level of advanced PTO tracking data needed by certain companies.

Advanced features like facial recognition and photo verification, while useful, may not be necessary for all businesses and can complicate the user experience.

Users may encounter a page error on the website, and limited customer support options could hinder problem resolution.
Why it might be a good alternative: Jibble is better for those with a distributed or remote workforce and focuses on features like geofencing and photo verification.
Pick your employee time tracking software wisely
As we discovered, Buddy Punch a bit far from being perfect. While it has interesting features, its limitations and cons can be too big of a deal breaker. 
The alternatives we shared are competitive and powerful options, so be sure to check them out. The best of them all is definitely Unrubble. We strongly suggest that you give it a try yourself.
If you found this post useful #share it: