When you run a business that offers physical products, it can be important to be organised, maximise your potential and bring nothing but the finest finished items to your customers every time. One of the best ways to ensure you tick all of the right boxes while keeping scalability in mind is product management.
What is product management?
It's no secret that the right tools and methodologies can revolutionise the way your business functions and for companies that offer products, implementing the right strategy could mean the difference between reaching worthwhile customers and increasing revenue, to losing out to the competition.
This is where product management can come in handy, as it is an organisational tool that can be used to streamline every aspect of a product's lifecycle; from development, to pricing potential. The core focus is the consumer and a product manager will do everything they can to ensure that customer needs are fully met so that you can provide the best products possible.
As the modern consumer is now more discerning than ever before and new updates in ecommerce industries are rolling out seemingly every month, it is important for businesses to have a competitive edge - and product management can do just that.
Four types of product manager roles
Chief Product Officer (CPO) - This individual oversees product function at organisational level to ensure that best practices are employed and individual products are properly taken care of by project managers and their teams.

Product Owner - The product owner will manage the functions necessary during product development, including minimising engineering backlog and facilitating communications between teams and stakeholders.

Product Marketing Manager (PMM) - The PMM will undertake product-specific marketing campaigns and gather worthwhile insights, before bringing them to product teams for a greater understanding of consumer needs and improved reach.

User Experience (UX) Researcher - while a product manager will be responsible for ensuring customers get the products they really want, a UX researcher enhances their abilities by analysing user behavior and making recommendations based on usability.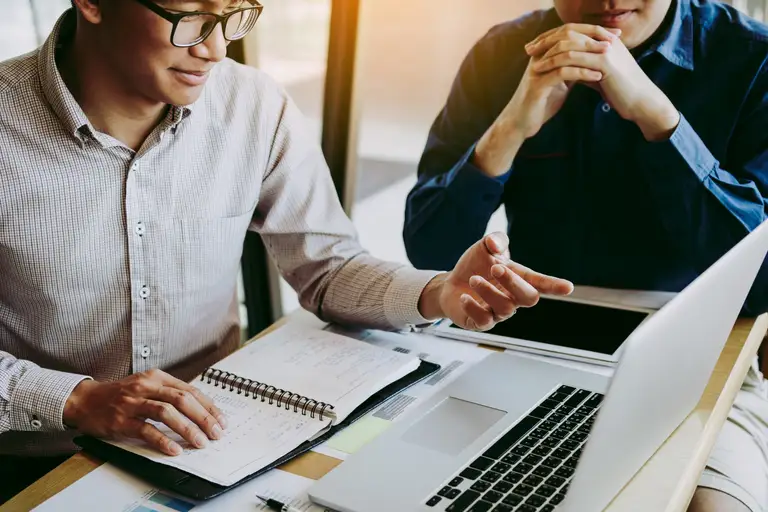 When asking "what is a product manager" it can be important to understand that there are no defined core focus skills or expertise, so these individuals will often have an array of competencies that will be supported by the teams they employ.
What are the functions of a product manager?
Product managers are typically used in areas where strategy is necessary, as they will have the ability to not only curate an overall vision for the product, but also work towards its execution with a deep understanding of consumer needs. Their skills can be put to use across the workforce and will tie project teams together to ensure that everyone understands the project goals and performs their tasks appropriately.
When you employ a product manager, they will not only be able to assist in product development, but also in product launch, growth and maturity, all while measuring and troubleshooting declines in market sentiment. Product managers can give deeper insights across the product lifecycle to advocate for customers at every level.
These individuals or teams will be expected to work alongside sales teams, customer support, marketing teams and even engineering teams to ensure that the focus stays on usability for the best possible customer experience. There will be a host of strategic objectives and tactical activities under their management, including:
Setting a product vision and strategy
Each one will need to be specifically tailored to the product in question to deliver unique value, which will be based on customer demands and not the vision of the company. Product managers will define consumer personas and analyse the relevant niche markets while ensuring that competitive conditions are met to remain on top of market trends.
Defining timelines and product goals
This will require the product manager to create a well-defined release plan, while collecting actionable feedback and ideas that can be applied to future product development. There will be a focus on maintaining the features that customers love while improving the lesser-received aspects.
Analysing the success of new products
Project managers will track important product metrics, including bounce rates, consumer usage and more to determine how well product launches are received.
Thirteen crucial skills of a product manager
When you need to know "what does a product manager do" it can be worthwhile to know that they have a host of hard and soft skills that enable them to effectively perform their role within your business. These include:
Technical expertise

An understanding of UX

Business acumen

The ability to prioritise

Strategic thinking

Critical thinking

The ability to analyze and interpret data

Research skills

Problem-solving

Communication skills

A knack for storytelling

Attention to detail

Self motivation
How to become a product manager?
When you want to become a project manager, there are actually two main ways to achieve your goals - either obtain the necessary qualifications or start small and work your way up the ladder by building your experience and skills. Some of the top industry names don't have formal qualifications, so it is entirely possible to work hard and land the right positions.
Regardless of the route you take, you will need to display skills in four core subjects, quality control, project scope, cost management and time management, while also having competencies in project financials, profit and loss measurement and budgeting. Soft skills include communication, conflict resolution, team-building, the ability to boost morale, leadership skills and more.
Why use a product manager in your business?
Product management can have some significant benefits for businesses that provide products, no matter how big or small they may be. With the right individual, team, or product management software (like a work time tracker or document management software) you can elevate your current processes and increase your reach, revenue, productivity and more.
If you found this post useful #share it: