There comes a time in every business when performance needs to be improved for scalability and to maximise sales and consumer reach. The way that buyers interact differently with the goods, services and brands around them has led to an increased focus on newer methodologies, and one of the ones leading the charge is sales enablement.
What is sales enablement?
When you find yourself asking "what is sales enablement", the top answer is that the sales enablement definition can be used to refer to a host of tools and even content strategies that are given to sales and marketing teams to ensure that the very best is made out of sales efforts and profits.
A sales enablement strategy can be implemented from the initial phases of lead generation, all the way through lead management and into the final sales process. This can include a wealth of informative content and data, messaging software, Customer Relationship Management (CRM) software to provide maximum benefits all while ensuring that your CRM data remains up-to-date.
When you improve the everyday processes of your sales team and the way that marketers provide information to them, you will be allowing them the opportunity to work smarter, harder and perform at their level best.
Five benefits of sales enablement
1. Efficient cross-functional alignment
As the modern workforce is evolving to meet the needs of a more demanding consumer base, sales teams no longer function as effectively as they once did alone. To remain competitive and ensure you reach the right audiences (and convert leads into sales), businesses will need to make sure that there is a new level of collaboration between sales teams and the marketing and product development teams that should now be supporting their efforts.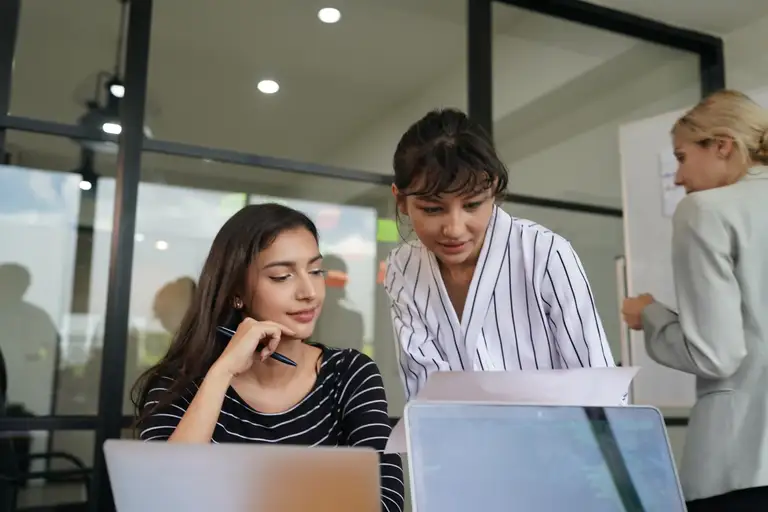 It may seem like a big ask to ensure that these departments come together and share their knowledge, but this is where sales enablement can be your most valuable asset. These implementations will allow individuals and teams to create, share and execute a host of marketing materials, product information and more to enhance sales pitches and better close deals.
2. Improved process and tool implementation
Your sales team will likely already have a selection of tools and software at the ready to improve the way they connect with audiences and potential customers, as well as to effectively promote your products and services - and while they may function well, you may not actually be getting the level of potential that sales enablement software can provide. These solutions can include a POS system and are often easy to integrate onto one propriety platform to streamline function and minimise the downtime associated with switching between apps.
To make things even easier, you could hire a sales enablement team or a sales enablement manager to select and roll out the best tools and software for your business and train all of the necessary departments quickly and effectively. The good news is that once the right strategy is in place, it will be easy to update as your business grows, so you won't have to worry about bringing in new software solutions down the line.
3. Improved sales content creation
Sales enablement tools can be a worthwhile consideration when you want to improve the sales content that you currently put out. The right implementations can help you to design more worthwhile templates and scripts for sales conversations, product reports and supporting documents, perform sales playbook updates and much more. With access to better sales content, your sales team will have the ability to better guide your customers through the typical buying journey - and effectively close the deals with the most revenue potential.
Why does your organisation need sales enablement?
With so many benefits and applications, sales enablement processes and tools will give your marketing team a better-performing framework that surpasses simple content creation to bring the maximum number and quality of potential leads to your sales team. When your lead generation pipeline is not only full of sales candidates, but also functions more predictably, there will be more opportunities to increase the level of close rates you are currently experiencing.
Three characteristics of sales enablement
Centralised access to content with worthwhile implementations for employees such as

leave management software

and

time trackers

Increased collaboration between sales, marketing and product design teams

Improved visibility into overall team performance
How to build a sales enablement strategy?
When it comes to providing the top services possible, sellers will need to have all of the necessary information, tools, data, software and more to hand to be able to effectively communicate with consumers, so marketing teams will need to provide a deeper level of understanding on what can illicit the highest results. This means that a well-thought out sales enablement strategy can be crucial to getting the revenue you really want to achieve. Here is an outline of the top features to include:
A clear mission for your sales enablement playbook

Concise goals

A central hub for deal, account and contact information

Communication tools to allow all teams involved to collaborate and provide feedback

Accessible sales collateral

Education and training materials

Software to measure, analyse and optimise all of the processes involved with sales
Can sales enablement really be the solution to increasing sales, productivity and more for my business?
The good news is that it can. When the right tools and strategies are correctly implemented, you will be able to enjoy a better-defined list of prospective clients that have been chosen for their buying potential, access to more techniques and market insights that will drive potential customers to your buying and sales cycles and unrivalled access to relevant sales information that can to help guide customers through the buying process.
Your teams will have the ability to design comprehensive content processes, perform more worthwhile collaborations, make use of better alignment protocols and best of all, curate deep insights that will have the potential to lead to better-informed decisions for your business.
If you found this post useful #share it: