A schedule of availability is pretty much like it sounds. Think of it as a calendar that shows when an employee is free and when they are not. It's super handy in lots of situations. Let's say you're working on a project with others. This plan lets everyone know when you can meet up or work together. 
It's like saying, "Hey, these are the times I'm available, so let's figure out what works best for everyone." 
This way, there's no guesswork or back-and-forth trying to find a good time. It's all laid out clearly. Plus, it's great for planning ahead, so you're not overbooking yourself or getting stressed out.
Simple, right? Just a way to keep everyone on the same page and make planning a whole lot easier.
Why is it important?
So, imagine a calendar that's not just about dates and holidays, but about people's time.
That's what a schedule of availability is all about.
It's a key part of employee availability management.
You see, when you have a team, knowing when each person is available to work or meet is super important.
Here's why:
Easier meeting scheduling
Without knowing when everyone's free (or not), you might pick a date for a meeting that doesn't work for half the team. With a timetable of availability, you can easily see the best times for that. This makes it a whole lot simpler to find that perfect slot where everyone's free.
Efficient communication
And here's where email comes in. Without a schedule of availability, you might end up sending a bunch of emails back and forth trying to figure out when to have a gathering. It's like playing a guessing game that can take up so much time. With a clear schedule, you can cut down on those endless email threads. Just check the schedule, pick a date that works, and you're set.
Less stress
The biggest benefit? It's all about efficiency and stress reduction. When everyone knows each other's availability, it's easier to plan, coordinate, and work together. 
It takes the guesswork out of scheduling, which means less time wasted and more time doing what you need to do. Plus, it's great for maintaining a good work-life balance, because you can clearly see and respect when people are off the clock.
So, it's not just a tool for organization. It's a way to make everyone's work life a bit smoother and more bearable.
How to create an availability schedule? A step-by step template
If you've never created this type of schedule for your employees, now's the time to learn how to do it. 
It's easy - just follow our template:
Step 1: get an employee scheduling tool
First things first, you'll need a tool to create and sort out your timetable.
Here, Unrubble comes in as a great solution. It's a user-friendly platform designed for work scheduling.
Unrubble is a scheduling software that's all about making your life easier.
With just a few clicks, you can create schedules, assign work hours, and even monitor break times. It's all automatic, so you can say goodbye to those long hours of manual planning.
Unrubble is not just about creating schedules. It's about keeping your team in sync. With real-time notifications, everyone is always up-to-date. No more miscommunications or last-minute panics.
And the best part? You can do all this from your phone with the free mobile app. So, whether you're in the office or on the go, you're always in control.
Join the ranks of 149,950+ happy users who've said adios to complicated scheduling.
With Unrubble, it's all about speed and simplicity. You can amplify your scheduling speed by up to 10x. That's right, 10 times faster! And it's not just for big teams. Unrubble is perfect for teams of all shapes and sizes.
Are you ready to join the scheduling revolution? Start unrubbling for free and see the difference for yourself.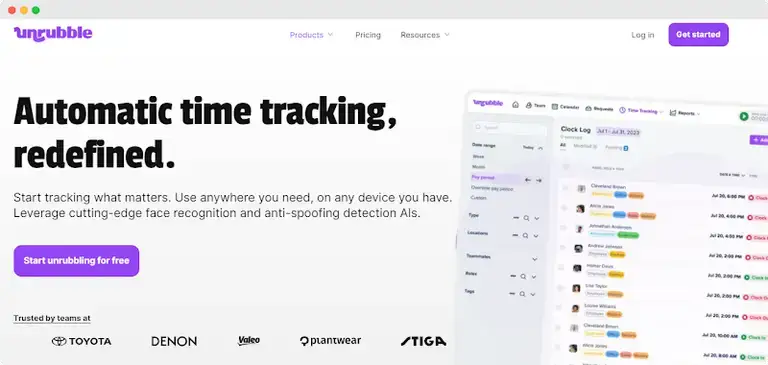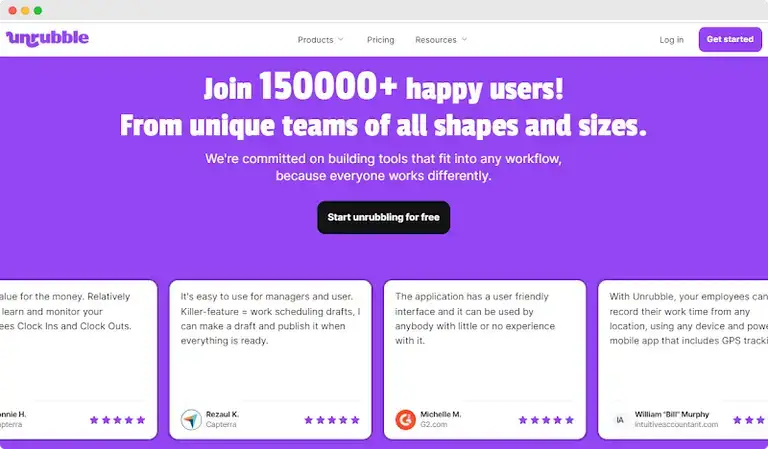 If you found this post useful #share it: