The modern workforce requires a new approach to productivity and management and as the digital world is consistently evolving, there is an influx of software out there that can help businesses to function better and streamline the way they typically operate. When asking 'what is business process automation', it is one of the areas that is gaining in popularity in the past few years, so let's take a look at 8 reasons why you may want to try it.
What is business process automation?
Business process automation refers to the use of AI and similar software to minimise the time and effort spent by employees on menial tasks that could be better executed by machine. By definition, a business process is categorised as a set of activities that are performed to complete specific organisational goals within a business - and this can include the production of products, boosting consumer reach and retention, or even streamlining employee onboarding. Just to give you an idea, business process automation examples include automated report generation, email automation, customer billing automation, cloud automation, customer services automation and more.
When should business processes be automated?
When it comes to implementing business process automation tools, you may be wondering when things should be automated to get the best results. The short answer to this is that business process automation software should be used when you need to up productivity and minimise the time spent working on an array of smaller processes that can be better taken care of automatically. A more in-depth answer is when you need to:
Get a better understanding of employee tasks and current management protocol
Bringing automation into your business right from the beginning can help you to define the tasks set for every member of the team and ensure that everything is managed how you'd expect, effectively improving the workflow for both current and future projects. If you use functions like process mapping, all employees will be clear on what is expected of them and this could act as a training tool for new hires.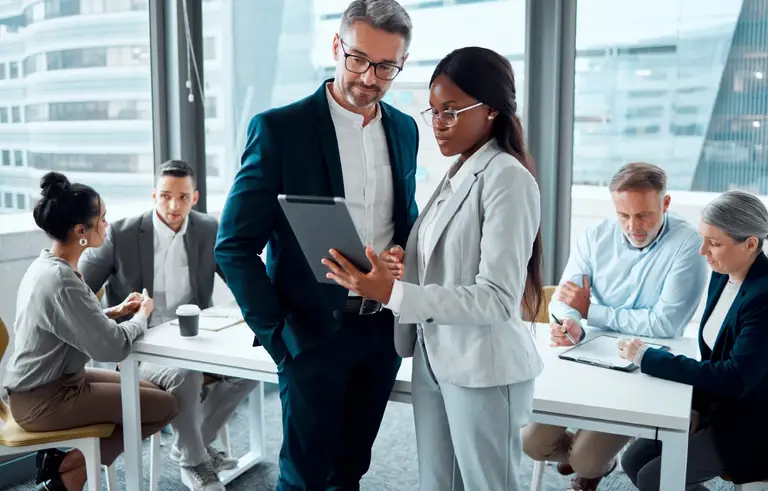 Improve current business function
Business process automation can take the way your business currently functions and elevate it to levels you probably didn't know were possible via more valuable insights, better accountability for teams, higher quality for all work produced and even faster turnaround times. When you remove the processes that are wasting employees' time, you will be able to better dedicate efforts elsewhere and improve the way that everything is handled.
Standardise operations
When you rely on your employees to undertake menial business practices, there can often be inconsistencies in the standards met month after month. This will all but be eliminated when you automate business processes, so you will be able to rest assured that you will be providing a more consistent standard of outcomes that will help you to establish your business as trustworthy and reliable.
Centralise portals and increase transparency
Certain types of business process automation software can provide an easy-to-access portal for employees, managers, and even shareholders to access relevant information. This makes everything simpler and minimises the need for multiple login details and switching between apps. This can also open up a new level of transparency for workflows, as the process steps will be properly outlined on one dashboard, spreadsheet, or similar, providing visibility for project status', task reviews and more.
Boost customer satisfaction
When you want to increase the level of satisfaction for your customers, business process automation will not only allow you to provide better services faster, but to increase engagement, brand reputability and much more.
Meet compliance protocol and record your adherence
Not only will businesses have to meet a range of rules and regulations to remain compliant when trading, but it can be worthwhile to keep a record of all of the factors that support this. A host of business process automation software is available to track updates to business laws and record the necessary data for your business, so you'll never have to worry about compliance becoming outdated or important information being overlooked.
Eight benefits of business process automation
Here are the top 8 business process automation benefits and the reasons why you may want to try it:
Increased productivity

Lower costs

Better auditing and compliance

Reduced error rates

Better customer service

Higher revenues
Why is automation crucial?
The main purpose of business process automation is to better dedicate employee resources by minimising the time-consuming, repetitive tasks that can instead be undertaken by AI and similar software. When you implement the right software, protocol and processes, you could set yourself as an industry leader, remain one step ahead of your competitors and generally improve the goods and services that you offer.
Five useful tools in business process automation
As business processes can be tackled in a host of departments, there are an array of business process automation solutions to take advantage of. With this in mind, here are 6 tools that may prove to be useful:
Document management software

Automated workflow software

Task management software
Can business process automation be the right solution for my business?
When it comes to employees doing less and achieving more, there is no better solution than business process automation. One of the major benefits is that these processes can be updated and upgraded as businesses grow, so there will be no need to spend extra downtime teaching staff how to use new software as when you need to improve your products and services to meet increased demand. While the niche itself may be complex, the tools and benefits are straightforward - and with the right understanding of what your business needs, implementation can be simple.
If you found this post useful #share it: