In recent years, there has been a growing focus on how companies can better improve their workflows to up productivity and provide a higher level of service to consumers in all industries. From small businesses to large corporations, the traditional way of doing things just isn't having the impact that it used to. This means that more and more job roles are looking for different types of skills to complement education - namely soft skills.
What are soft skills?
When asking "what are soft skills", the simplest definition relates to the way an individual is able to connect and communicate with the people around them. From social skills to emotional intelligence and even personality traits, these are considered to be emotional intelligence quotients (EQ, as opposed to IQ) that allow employees to navigate the often demanding working environment with hard-earned academic credentials alongside a personable attitude.
The soft skills definition can be broken down into one's inherent traits and capabilities and it is now more important than ever before for individuals to display a blend of soft and hard skills when entering the job market.
Why are soft skills crucial?
There is a greater demand for soft skills in the modern workforce as businesses have difficulty finding new ways to offer better products and services to more discerning consumer bases. Potential hires are now expected to display much more than a technical ability to perform the roles in question, and a deeper understanding of factors like market sentiment for example, could give them an edge. If you are unable to show that you both understand consumers, how to work well with colleagues and even take initiative, you will find yourself losing out to those that can.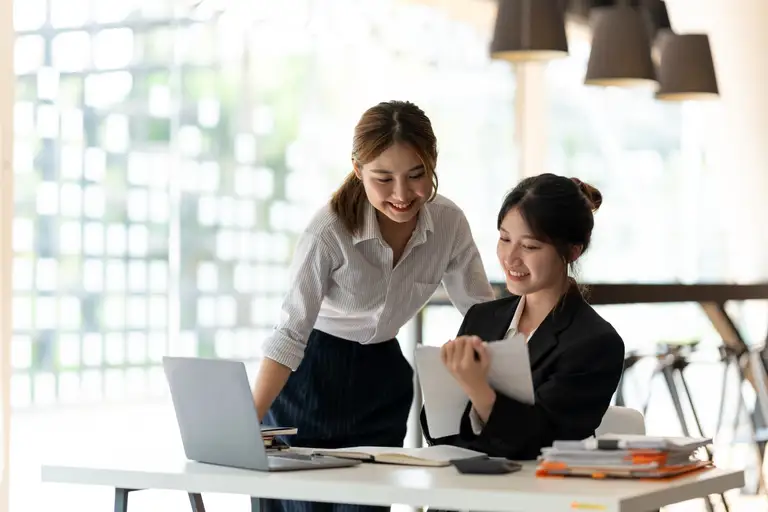 How to acquire soft skills?
It may sound like soft skills are something you're born with, but the good news is that there are ways to acquire them (and develop them) to increase your chances of landing the opportunities you really want. There is a diverse range of soft skills meaning that you can choose a focus and get meaningful soft skills training that you will be able to apply anywhere.
Here are some key soft skills examples for learning, to help you improve the qualities you already possess:
Challenge yourself
If you want to improve the way you communicate with others for example, put yourself in an environment where you will be required to connect with the people around you. This could mean joining a weekly book club or volunteering somewhere that has a high volume of diverse customers. If you'd rather boost your public speaking skills, you could do something like setting an hour aside each week to teach classes within your local community.
Regularly audit your personal performance
Dedicate some time each week to review how well you are tackling the tasks you are set. Define the areas that could do with some improvement, give yourself credit for the ones where you are excelling and see what you can learn from them (for example, you may learn the hours where you seem more productive, so you may be able to schedule more important tasks for those periods to up productivity). Make use of automated tools like document management software and define an online work schedule to improve your output.
Seek feedback
Just as auditing your personal performance can improve your soft skills, so can seeking feedback from your coworkers, managers and other experts in your field. Other individuals will see things about yourself or your work that you may otherwise overlook, so you can gain deeper insights into your strengths and weaknesses and make adjustments to better suit your goals. Remember that criticism is constructive, listen to what people have to say and show that you are taking their opinions on board.
Consider asking for the help of a mentor
One of the top examples of building soft skills is undertaking mentorship or coaching. Find someone who is confident, outgoing and has the types of soft skills you are hoping to develop. Ask for their assistance and take some time to learn from their experiences and knowledge.
Set realistic goals and stick to the practices you implement
It's no secret that grand, unachievable goals are more likely to set you up for failure than those that are smaller and more obtainable. When you complete goals, you will get a sense of achievement that will encourage you further on your journey. Don't forget to add your mentorship and any steps you take to improve your soft skills onto your goals list and stay consistent in attending classes, volunteer programs, etc. that you join for ongoing benefits.
Three soft skills you should possess in your career growth
Here is a list of the necessary soft skills you should possess to ensure a worthwhile future in the workplace:
1. Adaptability
Your ability to adapt will show employers how quickly you will respond to challenges and well you are able to learn and implement new skills into your working day.
2. Critical thinking
Critical thinking will be a necessary soft skill for development, as it demonstrates that you can ask meaningful questions and gather relevant information to be able to properly define the right solutions to issues.
3. Communication
The top soft skill to have is communication, as the better you are at expressing yourself, making others feel listened to and valued and laying out tasks in an easily digestible manner, the more you will be able to engage more constructively.
Nine major soft skills
Teamwork

Leadership

Attitude

Empathy

Active listening

Work ethic

Conflict resolution

Decision making

Networking

Problem-solving
What is the difference between soft and hard skills?
When it comes to understanding hard skills vs soft skills, the two definitions are pretty straightforward - hard skills are those acquired when undertaking formal education, training and similar concentrated efforts. When applying for jobs, employers will not only look at the hard skills presented on paper but they will likely test you during the interview phase with quantifiable results in mind. Soft skills however can be less easily defined and will need a different approach during the hiring process and this is where group interviews and role-playing techniques can come into the fray.
If you found this post useful #share it: