When you want to up productivity in the workplace and ensure that projects are completed at a high quality and on time, every time, it may be worthwhile to implement a new protocol into your teams. One great solution growing in popularity in recent years is process documentation. So let's take a look at how to write a business process documentation for maximum results.
What is process documentation?
Process documentation is where all the aspects of a business project are collected within one process documentation template as and when each step is completed, to form an easy to digest, step-by-step guide for employees to follow in the future. As it is editable and filled out in real-time, the documenting processes will allow for deep insights into what methods are working and what areas can be improved, as well as minimise the work that HR has to execute.
Process documentation examples include:
Content editing and publishing guidelines

Employee onboarding checklists

Equipment inspection and maintenance procedures

Customer support guides

Billing and collection documents

Performance review guidelines
Six tips on how to create process documentation
Document processing may sound time intensive, but the reality is that the final product can speed up future functionality and improve overall workplace productivity. Here are 6 tips to get the most out of your process documentation:
Consult your employees to determine any pain points they may have with the way things currently function

Set actionable goals at the start of the project to ensure that any employee needs brought up at consultation are met

Set the start and end dates of the process document to ensure everyone works to clearly defined deadlines

Build a strong team, as process documentation will provide the best results when everybody involved contributes

Appoint a writer for each department to vet unnecessary information and keep steps short and succinct

Establish a review and approval process to monitor and improve future process documentation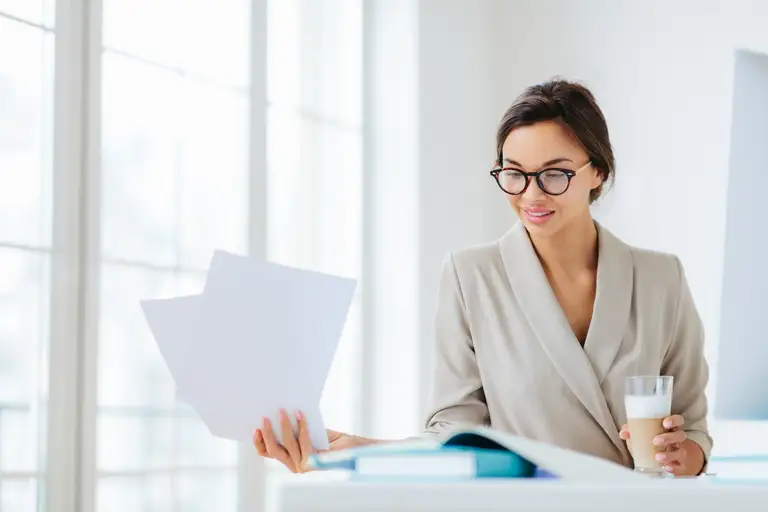 Five useful tools in process documentation
Here are the top 5 useful tools, but of course there are many more out there.
Microsoft Word

Microsoft Visio

Lucid Chart

Gliffy

Smart Draw
Making use of an employee scheduling app could also be of benefit during process documentation.
Benefits of process documentation
Not only can process documentation play a pivotal role in workplace productivity, but there are a host of other benefits on offer, such as:
Improved processes: In many projects there will be steps that are simply unnecessary, but they can be hard to define when everything functions as usual. When you properly document the processes involved, it will be easier to see what is relevant and irrelevant.
Better staffed teams: Often, teams will be assigned to projects as a whole, so there may be times when certain employees' skills are not necessary, or you could do with additional expertise from another department. Process documentation can ensure you have the right staff for every project moving forward.
Minimal confusion: With process documentation, everyone will have their tasks clearly defined and will be clear on the expectations placed on them for the task ahead. Once everything is completed, future teams and even new employees will be able to get on with little downtime.
The preservation of information: There will be instances when a member of the team will have expert knowledge on specific project processes, but what happens when they're unavailable, or worse, they leave? Important information would typically be lost, but with process documentation, everything will be easily accessible no matter what the future holds.
Better analysis: Process documentation will allow companies to better determine if new processes work better than old ones, even if the methodologies are completely different. This can help to define and troubleshoot flaws, streamline HR reporting, reduce downtime and even save on a host of costs per project.
Enhanced communication: One of the top benefits of process documentation is the fact that communication between teams will be simpler and more streamlined and shareholders will be able to log in to one portal and access the project at any time. Less confusion and real-time feedback will minimise mistakes and improve work quality, all while keeping everyone up to date in real-time.
Roles in process documentation
Business process documentation typically involves:
The project team: these will be responsible for the main components of the documentation process. When it becomes natural to take notes during work, the team will become more aware of the effort they are putting in and will be consistently learning on the job. If you feel like the process may take away from productivity, you can always appoint a specialist to undertake the documenting role instead.
The stakeholders: this refers to any individual or organisation that is involved in the project. When they are included in the documenting processes, they will have the ability to give feedback and provide worthwhile suggestions that will help to ensure the quality of the final product.
Any necessary external parties: sometimes it will be a good idea to invite third parties into your process documentation to provide unbiased opinions and fair judgment of how everything is progressing. Sometimes, a fresh set of eyes can pinpoint issues that you and your team may otherwise overlook.
Key considerations when writing a process documentation
When you decide to write a process documentation, it can be imperative to achieve a worthwhile balance between a thorough, detailed guide and a clear, well-thought-out piece that gets the point across with little fuss. The best way to achieve this is to define the exact information you need and omit anything that may be considered off-topic. You should always keep the audience in mind, as those receiving the final document may not have the same knowledge or skills as you do. If you think certain information will be helpful but potentially a little too complex, there may be better ways to incorporate it than blocks of text (like images, for example).
If you are going to be sharing your process documentation with shareholders or other third parties, consider if you want to include the motivation and goals for the project, so that they will better understand its purposes and why certain tasks are being undertaken and when throughout the project.
If you found this post useful #share it: