Many businesses decide to switch to a remote work model for a number of reasons. They often relate to cutting expenses or giving employees more flexibility, among other things
However, striking a balance can be challenging when things like distance, time difference, and a lack of real-life meetings enter the room.
How can you ensure your company's operating at its best when working remotely? The answer is: with the help of tools.
Today we're sharing with you our top list of the best software tools for everything related to remote work.
From time tracking, through communication, all the way up to project management, video meetings and more.
Why is remote work so popular?
Remote work is becoming more and more popular these days because it can be beneficial for both employers and employees.
Among the benefits, one study respondents mention aspects such as time (67%) and work location (62%) flexibility. Nearly 60% of people working remotely also mention the opportunity to save time on commuting. This aspect can positively contribute to areas of life such as sleep, job satisfaction, and work-life balance.
Employers value remote work for other reasons. For example, reducing company expenses (59%). This is undoubtedly a strong argument in favor of remote work in times of high inflation and a worldwide recession. 
And while not all industries can enjoy working remotely, a significant number of them do have this possibility.
Top 9 remote work tools to help your company
If your company is one of the lucky ones that can work remotely, find out now how you can improve your remote work productivity, collaboration, and effectiveness even more with these top tools and their key features:
For time tracking: Unrubble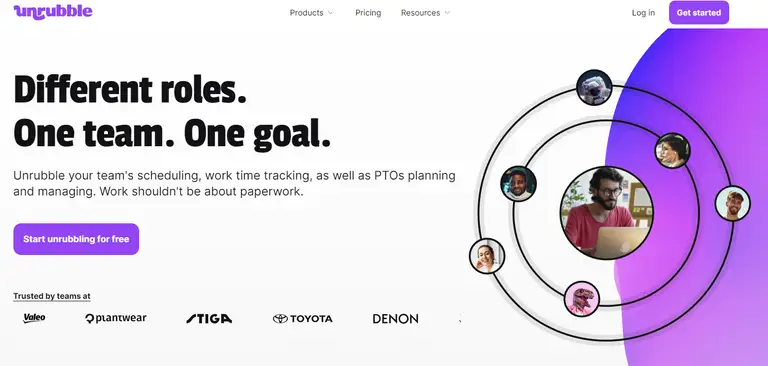 Unrubble is the ultimate time tracking tool that lets you streamline work time management and optimize remote team performance. With its user-friendly interface and a wide range of features, Unrubble simplifies the process of monitoring employee work hours, breaks, and clock-ins/outs. Used by thousands of teams, this is the absolute top pick in this category.
🖥️ Notable features for remote work
Keep track of your remote staff's actual working hours, including overtime, breaks, and punctuality. Eliminate issues such as early clock-outs and employees being constantly late. Maintain accurate time records for remote teams.
Simplify the process of creating work schedules for your remote employees using Unrubble's intuitive scheduling feature. Spend significantly less time, approximately 80%, compared to using traditional tools like Excel and Google Docs.
Online PTO & Leave Tracker
Effortlessly plan vacations and manage time off for your entire remote team. Keep track of staff absences, holiday requests, and time off in one centralized system.
Business Travel Management
Streamline the planning, approval, and management of business travel for remote employees. Delegate tasks, create dedicated discussion channels, and store relevant files in a single platform.
Use Unrubble's mobile app to transform your employees' smartphones or tablets into convenient mobile work time clocks. Enable easy clock-ins and clock-outs on the go thanks to features like QR codes, automatic time tracking, and GPS location. All this is for accurate tracking and remote team management.
💲 Pricing
Unrubble offers a highly flexible pricing structure tailored to businesses of all sizes and with no credit card required. Prices start from as little as $1.95 per user per month. Annual plans give users a 33% discount and up to 4 free months of use. For detailed pricing information and to explore different plans, it's best to visit the website or contact the sales team for a completely personalized quote. 
Starting price: $1.95 per month per user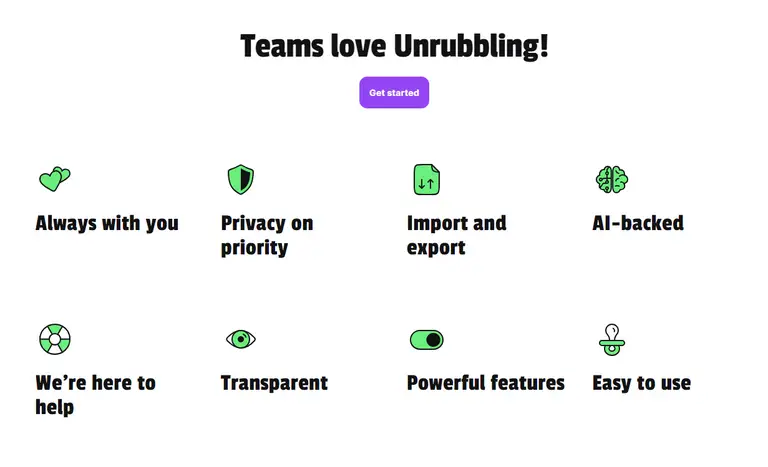 Take advantage of Unrubble's all-in-one workforce management solution to enhance efficiency and save valuable time in managing your team's work hours and schedules. Sign up for a 14-day free trial today.
For communication: Slack
Slack is a comprehensive option when it comes to collaborative tools designed to enhance productivity within teams. It provides a centralized space for work communication. Users of Slack can connect, share information, and automate routine tasks. Thanks to its intuitive interface and powerful features, Slack has become a trusted tool for thousands of teams.

🖥️ Notable features
Organize spaces for your remote team, enabling seamless collaboration across departments, offices, time zones, and even with external teams.
Enjoy instant messaging capabilities for real-time team communication, including the option to send text, audio, and video clips. Anywhere you are.
Easily share files with remote employees to reduce the need for separate file storage platforms.
Integrate Slack with third-party tools, like Google Drive, Google Meet and Office 365, to streamline workflows and access important tools. Enjoy calendar integrations and many others for smooth remote collaboration.
Automate routine actions and communication to free up your time and produce more valuable work when working remotely.
Use the search functionality to quickly find past conversations, files, and information you shared with your remote team.
💲 Pricing
The pricing options offered by Slack differ based on company needs. There's a free plan available if you wish to just try it out before committing. For more advanced features and additional functionality, Slack has paid plans starting at $7.25 per user per month.
Starting price: $0 per month
For project management: Asana
Asana is a top pick among project management tools and it is renowned for its task management and coordination capabilities. This solution is specifically designed to improve efficiency and collaboration across organizations, whether it's remote or hybrid teams.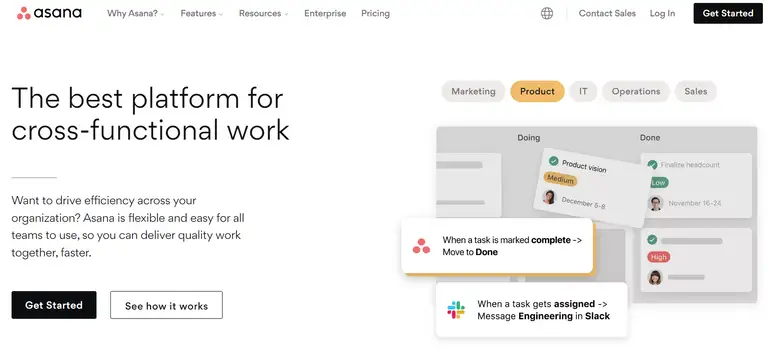 🖥️ Notable features for remote work
Use AI-powered features that analyze team performance and identify areas where additional support is required. This helps to address remote work challenges.
Effortlessly create automated processes specifically tailored to coordinate your remote team's activities. Thanks to this you can leverage recommendations from Asana to optimize your workflows.
Visualize project schedules using Gantt chart so that it's easier to manage remote employee schedules and ensure efficient coordination.
Track the progress of remote work using Kanban boards. This way you can seamlessly collaborate and manage tasks -  wherever you are. 
Access a shared calendar displaying your entire team's work. Get real-time visibility insights on individual assignments and overall project status throughout the remote work environment.
Integrate Asana with other remote working applications such as Microsoft Teams, Google Docs, or Vimeo for issue-free communication.
Gain real-time data on project progress and assess the effectiveness of remote work practices within your organization to make informed decisions.
Set and track strategic goals for complex projects and ongoing tasks. Eliminate the need for constant communication and start promoting autonomy in remote work settings.
Gain visibility into team members' workload across different projects. Enjoy effective resource allocation and ensure a balanced distribution of tasks in a remote work setup.
💲 Pricing
Compared to other project management tools, Asana gives users a wide range of subscription options. The basic plan is free for teams of up to 15 members and it's suitable for simple task and project management. In addition to that, there are also premium, business, and enterprise plans available. Further details of each plan are accessible once you request pricing from the sales team or visit Asana's website.
Starting price: $0 per user per month
For video sharing: Loom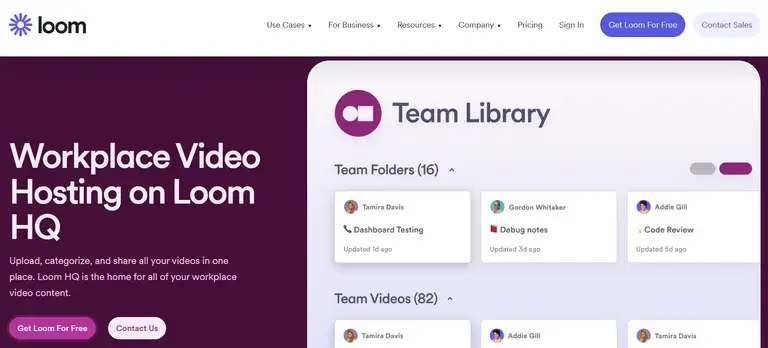 Loom is a versatile video communication software offering screen and webcam recording capabilities. Loom's users can effortlessly create captivating videos for things like presentations, tutorials, and team updates.
🖥️ Notable features for remote work
Screen and Webcam Recording
Capture your screen, webcam, or both simultaneously to create engaging videos for presentations, tutorials, and team updates. For example, you want to tell your designer that something is broken on your website, so you record a video in Loom as you're browsing the website and you attach a video recording of yourself speaking as you're on the page.
Record and share quick video messages to communicate ideas, provide feedback, or share updates with your remote team in a more personal and engaging way.
Organize and store videos in shared team libraries for easy access and cooperation in your remote working environment.
Enhance remote collaboration with comments and annotations directly on videos.
Integrations and Embedding
Seamlessly integrate Loom with other tools and platforms, such as project management software or customer support platforms. Embed videos into emails, documents, or websites for easy sharing and accessibility. For example, you can integrate it with Asana and add Loom videos to Asana as instructions for tasks.
💲 Pricing
The plans are varied. There's a free plan with limited features and storage, as well as paid options with additional features and increased storage capacity. Detailed pricing information can be accessed on the tool's website.
Starting price: $0 per month
For process documentation: Scribe
Scribe is an incredibly adaptable tool designed for process documentation and used to transform procedures into comprehensive step-by-step guides. Whether your aim is to seamlessly onboard new hires, develop standard operating procedures (SOPs) or construct comprehensive training documents, Scribe streamlines the entire process of documenting and effortlessly sharing vital information.
🖥️ Notable features for remote work
Web & Desktop Process Capture
Simplify remote work documentation thanks to automatically capturing and creating detailed how-to guides for web or desktop-based processes. This feature eliminates the need for manual documentation. As a result, remote employees can easily access and follow instructions for various tasks and processes.
Automatic Step Instructions
Save valuable time and improve productivity in remote work settings with the automated generation of step-by-step instructions.
AI-Generated Process Documents
Enhance remote work efficiency and generate comprehensive process documents with AI. Whether it's standard operating procedures (SOPs), training manuals, or process overviews, this option lets you create detailed and standardized documents. Remote employees can access these resources and, as a result, keep a consistent understanding of processes, regardless of geographical location.
Automatically remove sensitive employee or customer data from screenshots to maintain data privacy and comply with regulations. Let your remote teams work with confidence, knowing that data security is upheld and privacy regulations and industry best practices are followed.
Shareable Links & PDF Export
Easily share your guides with other remote employees or clients via links, embed them in company wikis or knowledge bases, or export them to PDF for wider accessibility.
💲 Pricing
Scribe offers 3 types of subscription options: free, pro, and enterprise. If you opt for an annual billing schedule, you can expect a 20% discount. The free plan lets you give the tool a test before committing. In general, the pricing isn't too high if we look at the number of features offered.
Starting price: $0 per month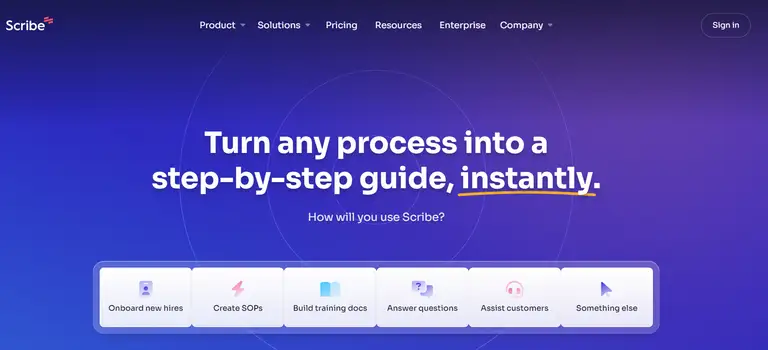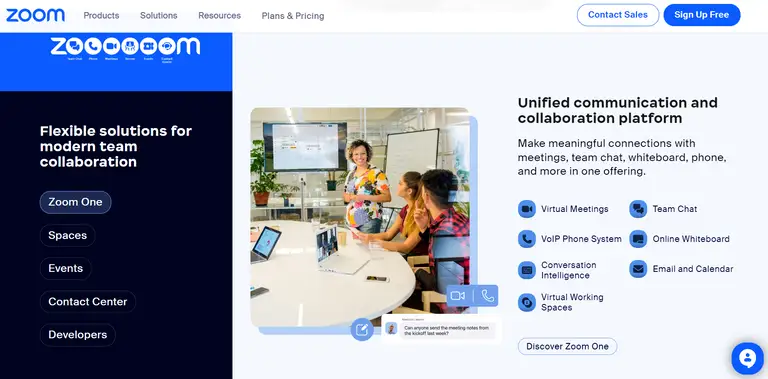 Zoom is an AI-powered platform for video online meetings and collaboration. Zoom's user-friendly interface and advanced AI capabilities help remote teams work together more effectively, regardless of their physical locations. This tool is widely used by even 300 million daily active users across industries for its reliability, flexibility, and ease of use.
🖥️ Notable features for remote work
Host and join video team meetings with up to 100 participants (in the free plan). Enjoy high-quality audio and video. Join from various devices and locations.
Share your screens during meetings to easily present slides, documents, or other content. This feature facilitates real-time collaboration and enhances visual communication.
Real-time Collaboration Feature
Collaborate on documents and make annotations in real time with interactive whiteboarding and annotation tools.
Draft emails, chat messages, and meeting summaries with Zoom's AI assistant. Automate routine tasks to focus on more important aspects of your work.
Use virtual backgrounds to hide your actual surroundings during video meetings. Enjoy a touch of professionalism and privacy to the meeting environment.
Recording and Transcription
Record meetings and automatically transcribe them for reference or sharing.
Integration with Third-Party Apps
Integrate Zoom with various popular productivity and collaboration tools, like Google Workspace, Microsoft 365, Slack, and more.
💲 Pricing
There's a free basic plan with limited features available. For more advanced features and increased meeting length, users can choose from several paid plans, such as Zoom Pro, Zoom Business, and Zoom Enterprise. The pricing structure is tiered based on the number of hosts and participants.
Starting price: $0 per month
For ideation: Miro
Miro is an online whiteboard platform that allows teams to ideate, collaborate, and organize their work visually. It provides a digital canvas where users can create, edit, and organize various types of content such as sticky notes, images, diagrams, and drawings. 
🖥️ Notable features for remote work
Online Whiteboard Feature
Create and collaborate on various visual elements, such as sticky notes, diagrams, drawings, and images.
Take advantage of pre-designed templates for different use cases, such as brainstorming, retrospectives, agile workflows, and more.
Integrate Miro with popular collaboration tools like Slack, Microsoft, Dropbox, and Atlassian.
Host face-to-face discussions while working on the virtual whiteboard with the built-in video conferencing feature.
Commenting and Collaboration Feature
Leave comments, mention team members, and have threaded discussions directly on the canvas.  No need for in-person meetings with the entire team.
Mobile and Offline Access
Access and collaborate on boards from your mobile devices. Enjoy offline access and work on boards without an internet connection.
💲 Pricing
The Free plan allows unlimited team members and includes a single workspace with three editable boards. There are also Starter, Business, and Enterprise plans available. You can opt for either monthly or annual billing. 
Starting price: $0 per month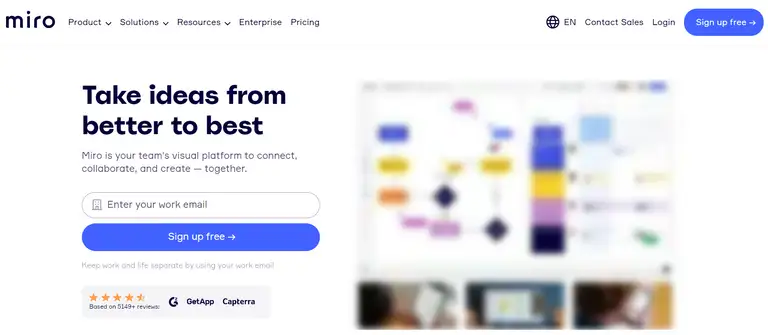 For design: Figma
Figma is a cloud-based design and prototyping tool that is widely used by designers for creating user interfaces (UI) and user experiences (UX). It's a collaborative platform where design teams can work together in real-time, regardless of their geographical locations.
🖥️ Notable features for remote work
Collaborate in real-time with team members using Figma's web-based workspace. Iterate and create designs together. Enjoy seamless collaboration and get rid of the constraints of physical location.
Accelerate the design iteration process. Create interactive and realistic prototypes that facilitate quick feedback gathering and validation from stakeholders and users, even in remote work environments.
Bridge the gap between design and development thanks to a dedicated space for developers. Take advantage of the necessary tools for developers to understand and translate designs into code. Fosters effective communication and collaboration between designers and developers in remote work settings.
Collaborate and align design team ideas and workflows with the FigJam online whiteboard. Use it for virtual team brainstorming sessions, planning, and team retrospectives.
💲 Pricing
Figma presents a number of pricing plans tailored to suit different requirements. For those just starting their design journey or leading small teams, the Starter plan offers a cost-effective option with limited features and storage. If you need more functionalities, The Professional, Organization, and Enterprise plans are also waiting for you, with each offering a different set of possibilities.
Starting price: $0 per month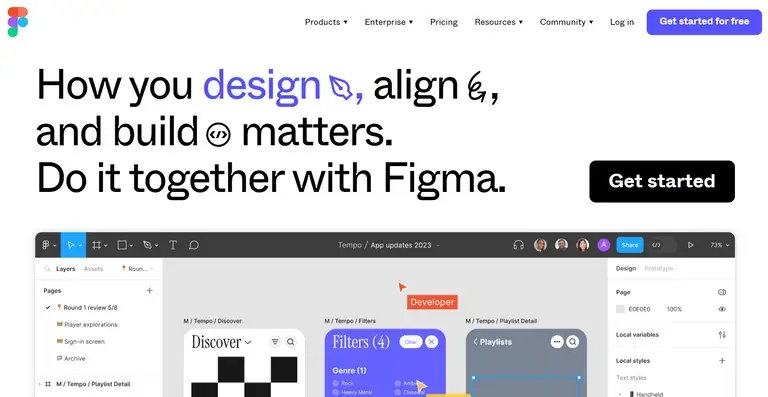 For help desks: Smartsupp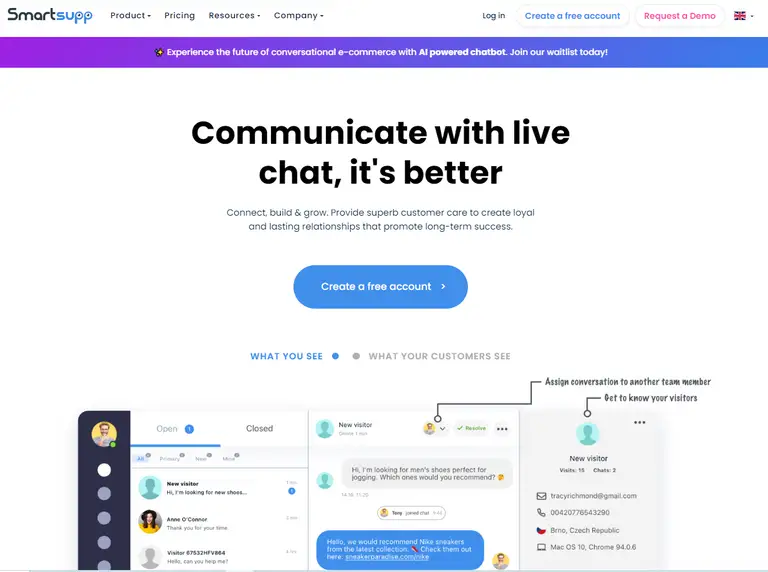 Smartsupp is a useful tool designed for help desks and customer service teams. It combines live chat, chatbots, and video recordings to enhance customer interactions and boost sales. With Smartsupp, businesses can provide the human touch by engaging in real-time conversations with website visitors. 
Trusted by over 100,000 active customers worldwide, Smartsupp has proven to be a reliable solution for businesses seeking to optimize customer support using collaborative features.
🖥️ Notable features for remote work
Reply to customers' repetitive questions with consistent answers and in a timely manner. Write responses in advance and save them to use in 2 clicks at a later time.
Data and Customer Analytics
Gather useful customer data, such as what pages they view or how much money they spend to improve your customer support efforts.
Always be ready to respond to customer messages. Collect customer information so that you're able to respond to them even after they leave your website.
Make your customer service teams available for your customers wherever they are thanks to the mobile app. Never miss a chat again.
💲 Pricing
Smartsupp offers a few pricing plans to empower businesses with the best communication tools. They provide both yearly and month-to-month billing options, with savings of up to 20% on annual plans. The pricing plans vary in features and capabilities to cater to different business needs.
Starting price: $0 per month
Over to you
We hope you enjoyed going through this extensive list of our top collaborative tools for remote employees.
Which remote work software option is your favorite?
If you're considering using our time tracking and work scheduler solution, we invite you to give Unrubble a free try. 
We're excited to boost the efficiency and productivity of your remote team.
Equipped with a powerful tool stack, you're now ready to take remote working to a whole new level in your organization. Good luck!
Frequently asked questions
What tools are the most useful for remote work?
It depends on your team setup and needs. It's best to start with communication (written, audio and video), time tracking and then move on to specific tools needed in their line of work.
What is the best way to work remotely?
There is no single way to work remotely that is best. However, most experts agree that remote teams should overcommunicate to make up for the lack of in-person time spent together. This is why communication tools for remote teams are some of the most important to get started with.
If you found this post useful #share it: