Having a connected team of employees that feel valued can be the key to a well-functioning organisation in 2023 - and a great way to promote this while increasing value for your business is to start a mentorship program. Mentorship programs can act as a professional development strategy that allows more experienced team members to share their knowledge with other employees who want to build their skills and experience, to improve the wider working environment.
What is a mentorship program?
In terms of business, a mentorship program can leverage the expertise of skilled employees and offer a more personalised level of training to members of the workforce. This is often undertaken by senior leaders who will be paired with lower-level employees that show interest or an aptness in a particular field that could benefit from a less traditional form of study.
Employee mentorship programs are typically informal yet highly advantageous, as individuals will be able to shadow their mentor and learn from their experience in real time as opposed to sitting at a desk and completing comprehensive study materials. Businesses can take a more formal approach however, and set workshops and corporate events that multiple employees can attend to get deeper insights into a particular role.
While mentorship programs can sometimes feel like a morale-boosting initiative, there is good reason to suggest that they offer a broad scope of benefits to those who take part.
What is the goal of mentorship?
Mentorship programs in the workplace aim to provide a less academic approach to learning - and as there is a growing focus on soft skills in the modern workforce, this can provide a host of additional advantages for both mentors and mentorees. It creates a more flexible platform for education where individuals can share more than just the hard skills necessary for the job, alongside offering guidance, key takeaways from unique, personal experiences and more that will promote personal as well as professional growth.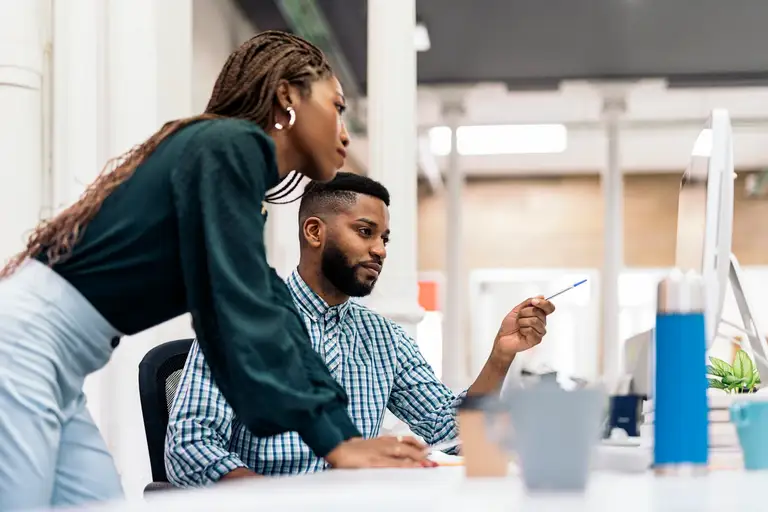 Six types of mentorship programs
There are 6 types of company mentorship program that you can make use of in your business. Let's take a look at these now, so you can select the one(s) that will best suit your employee's needs:
Formal mentoring: this type of mentoring aims to provide a more structured learning curriculum with pre-defined goals, and mentors will be partnered with mentorees based on need over choice. This can be done via the opinions of program managers or by using a bias-free algorithm.

Informal mentoring: programs that are set informally will typically see the mentoree choosing the individual they would like to learn from to meet a host of their own goals.

Group mentoring: as the name suggests, group mentoring will have several attendants under one tutelage. The mentor may have the freedom to define when and how they mentor, but some businesses will set aside events or meeting times for this to take place.

One-on-one mentoring: business mentorship programs will often work best when mentorship is undertaken one-on-one and the goals and curriculum can be either formally or informally chosen depending on the individual's needs.

Virtual mentoring: as more and more businesses employ staff from abroad or have work from home procedures in place, virtual mentorship has been growing in popularity to ensure that everyone gets a fair chance at learning. This can function well in terms of one-on-one needs as individuals will have the ability to speak freely, but also for group mentoring as everyone can simply enter the call and benefit from the knowledge being shared.

Reverse mentoring

: A newer form of mentoring to hit the niche, reverse mentoring encourages employees of all statuses to form professional friendships where skills and knowledge can be shared for all-round benefit.
How to create a successful mentorship program?
The right mentorship program template will give businesses the opportunity to create a simple structure that can be adhered to with little fuss yet maximum gain. This is an example of how a mentorship program should be structured and can provide the right basis for success no matter the style of mentorship you are hoping to implement:
A mentoring program administrator should be appointed to create a program and determine the most worthwhile criteria, including the training goals and requirements, whether the program is formal or informal, the type of mentoring to be undertaken and the best individuals for the task.

The mentoring program administrator will invite the necessary participants.

Both mentor and mentoree(s) should curate profiles to facilitate the most advantageous matches (mentorship program software can take care of this and remove the potential for workplace bias).

Mentors and mentorees will be matched and begin the program with the aim of developing a successful working relationship that will meet goals across the defined program cycle. During this time, progress will be tracked and mentoring program administrators will have the ability to collect worthwhile data regarding its progress, benefits and overall performance.

Once the program cycle ends, it will be time for program administrators, mentors and mentorees to share their thoughts and experiences and provide a final evaluation to collate the necessary end-of-cycle data. Program administrators can now make adjustments ready for the next program cycle.
This is a simple yet effective framework that can be tailored to meet the needs of varying businesses and employees who feel that mentorship programs may be worthwhile. All strategies should include invitation, participant matching, meeting and evaluation to ensure that everything functions as expected.
Five benefits of mentorship programs
The top 5 benefits of a mentorship program are:
Attracting talent

Career and professional development

Retaining high-performing members of staff

Increasing employee engagement
When you use mentorship programs alongside productivity models and software to improve the working environment (such as business travel management software and online work scheduling apps), you will be setting your business up for success. As employees are now looking for a better work/life balance and a level of value for the roles they perform, it can be especially important to provide as many tools as possible to ensure they have the right working mindset and bring the level of benefit to your business (and customers) as you'd expect.
If you found this post useful #share it: