When you want to streamline end-to-end business processes, you may be considering your options for best practices and software that can maximise your potential. One of the leading solutions is business process management (BPM) and as it's a well-established practice that functions for a whole host of industries and niches, it can be worthwhile to learn more.
What is business process management?
If you are asking "what is business process management", it can be important to first understand what a business process is. Business processes are the functions that are performed on a daily basis to achieve goals and can act as key indicators when measuring success. When you implement business process management software, you will have the ability to undertake a deeper level of evaluation to determine where you can improve efficiency, minimise errors, reduce costs, and enhance your business's digital transformations to maintain a competitive edge.
The good news is that business process management tools can be used to streamline any menial, repetitive tasks to free up the time and effort of employees. This means that you will be better able to direct individuals to the processes that will benefit from additional assistance.
Three types of business process management
1. Integration-centric BPM
When you have areas of your business that already utilise software systems with little human input, integration-centic BPM can be a worthwhile addition.
2. Document-centric BPM
If you need to sign, format, verify, or route any type of document, document-centric BPM may be the right type of software for your needs.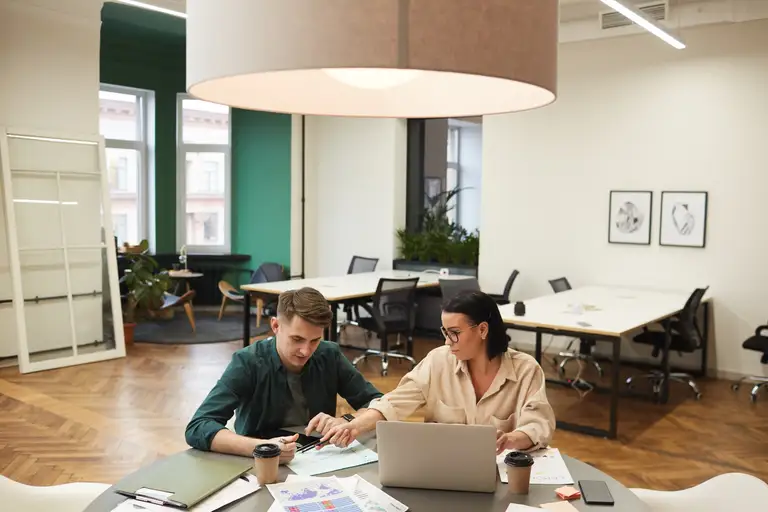 3. Human-centric BPM
Human-centric BPM can be a good solution if you need to track end-to-end processes, get simple notifications, or offer a user-friendly interface to employees for processes that need manual approval.
Five core steps of business process management
The 5 core steps of business process management can be used to create an effective cycle for your end-to-end processes. These are:
Create a plan

Analyze the processes of your business

Design the ideal model

Implement change

Monitor and refine the new BPM cycle
How to implement it in your organisation?
The following steps comprise the best ways to implement business process management into your business:
Choose the business process management tools, software, or platform you want to use

Pick a business management process to test

Identify the process owner

Set benchmarks

Diagram the workflow

Pilot the workflow

Train users

Measure and adjust the workflow to perform as you want
What are the benefits of business process management?
Increased efficiency
When your business isn't running at optimum functionality, you could be wasting time and missing out on a host of processes that would otherwise be making you money. Sometimes, when you have had a set of processes in place for quite some time, it can be difficult to spot the areas that are underperforming, or you may be reluctant to make changes. Business process management software has the capability to define areas that are currently inefficient and target how to bring them up to speed, all while tracking data to provide worthwhile insights to employees and managers so that alterations can be made. It can also be set to automate manual tasks for better productivity and minimised human error.
Improved business agility
It's no secret that change happens - and in the modern business environment, it can be especially important to be flexible and implement agile processes. Not only will consumer sentiment evolve over time, but new technological advancements and even business regulations can quickly put you behind your competitors - and BPM can provide the tools you need to quickly make adjustments with little downtime or disruption for your audience.
With agility in mind, if you are considering launching a minimum viable product, these benefits can also apply.
Improved visibility
Managing business processes can be made easier with BPM as this software uses AI and machine learning to monitor a host of business processes at any level. Automated tasks will be tracked to display the performance of each step in real-time so businesses will benefit from all the advantages that come with improved visibility.
Easier transfer of business knowledge
The modern workforce is more diverse than ever before and, for a host of reasons, is prone to change. Traditional business models often rely on individual employees to have a specific skill set and knowledge of one particular process and this can lead to a loss of information if that person takes leave, transfers, or even retires. With business process management software, workflows will be mapped and knowledge can be recorded, shared and archived for later use. If your employees are feeling the strain, it can be a good idea to implement tools like document management software or a work time tracker to increase productivity.
Increased opportunities for continuous improvement
An array of productivity methodologies operate under the ethos of continuous improvement, where small changes are made frequently to benefit the wider functionality (as opposed to implementing changes in chunks that will require a level of downtime). BPM has the same aims in mind, to encourage ongoing upgrades to refine end-to-end processes with little fuss, with the additional advantage of trackable data and actionable insights.
Will it be worthwhile to hire a business process manager?
Business process management can be an important implementation when managers want to obtain some deep insights into how well their internal processes function, with a focus on increased productivity and improving customer experiences. There may be instances where you may want to hire a specific business process manager that can provide adaptive leadership, but this won't always be necessary as this type of software and common practices are simple to both learn and roll out across teams and departments.
The overall benefits are typically related to the increased level of insights - and your business could save money when minimising unnecessary processes, boosting revenue and overall improving company efficiency.
If you found this post useful #share it: