Are you looking for ways to take your business to the next level without breaking the bank?
Look no further! Our team has compiled a list of the top free tools that can help you grow your project.
Check out our comprehensive list of free tools that can help you boost your business. Our table includes names, descriptions, and direct links to each tool. Find out which departments can benefit and start using these tools today!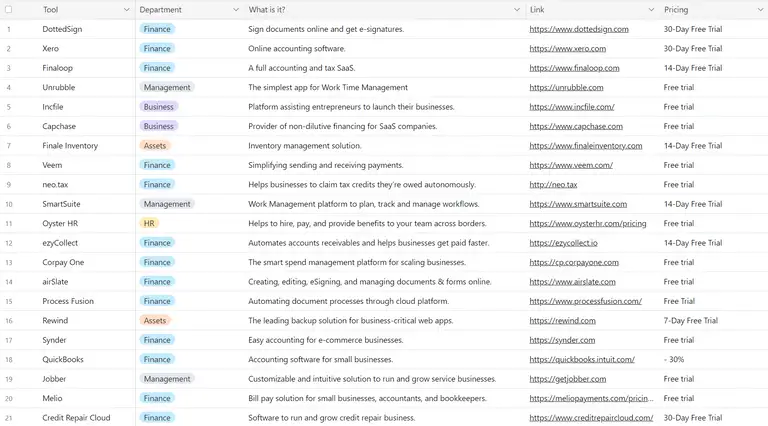 To access the full view of the table and learn more about each tool, simply click on the link to open it in Airtable. Alternatively, you can download the report for offline viewing. Start exploring our list of free tools today and take your business to new heights!
Department
Finance
DottedSign
Xero
Finaloop
Veem
What is it? - Simplifying sending and receiving payments.

Link -

https://www.veem.com/

Pricing - Free trial
neo.tax
What is it? - Helps businesses to claim tax credits they're owed autonomously.

Link -

http://neo.tax

Pricing - Free trial
ezyCollect
What is it? - Automates accounts receivables and helps businesses get paid faster.

Link -

https://ezycollect.io

Pricing - 14-Day Free Trial
Corpay One
What is it? - The smart spend management platform for scaling businesses.

Link -

https://cp.corpayone.com

Pricing - Free trial
airSlate
What is it? - Creating, editing, eSigning, and managing documents & forms online.

Link -

https://www.airslate.com

Pricing - Free trial
Process Fusion
What is it? - Automating document processes through cloud platform.

Pricing - Free trial
Synder
What is it? - Easy accounting for e-commerce businesses.

Link -

https://synder.com

Pricing - Free trial
QuickBooks
What is it? - Accounting software for small businesses.

Pricing - 30%
Melio
What is it? - Bill pay solution for small businesses, accountants, and bookkeepers.

Link -

https://meliopayments.com/

Pricing - Free trial
Credit Repair Cloud
What is it? - Software to run and grow credit repair business.

Pricing - 30-Day Free Trial
Management
Unrubble
What is it? - The simplest app for Work Time Management.

Link -

https://unrubble.com

Pricing - Free Trial
SmartSuite
What is it? - Work Management platform to plan, track and manage workflows.

Link -

https://www.smartsuite.com

Pricing - 14-Day Free Trial
Jobber
What is it? - Customizable and intuitive solution to run and grow service businesses.

Link -

https://getjobber.com

Pricing - Free Trial
Business
Incfile
What is it? - Platform assisting entrepreneurs to launch their businesses.

Link -

https://www.incfile.com/

Pricing - Free Trial
Capchase
Assets
Finale Inventory
What is it? - Inventory management solution.

Pricing - Free Trial
Rewind
What is it? - The leading backup solution for business-critical web apps.

Link -

https://rewind.com

Pricing - 7-Day Free Trial
HR
Oyster HR
What is it? - Helps to hire, pay, and provide benefits to your team across borders.

Pricing - Free Trial
If you found this post useful #share it: