What is a Skills Gap definition?
So, what is a skill gap in terms of business? In short, it's the difference between an employee's skill and what the company requires of them.
Essentially, if your workers can't provide the level of skill that your business needs, you may need to look into ways to boost the efficiency of your workforce or look into hiring new talent. If you're finding that your company is struggling and you can't quite pinpoint the source of the issue, it may be worth conducting a skills gap analysis to see if the problem lies there.
There are a variety of downsides that can come with leaving a skills gap unresolved in the business, which is why doing a little research can generally be worthwhile. For example, it will often have an impact on the morale of employees, increase expenses in the business and generally lead to an overall lower quality of work, to name just a few.
Due to the problems that skill gaps can cause; it shouldn't be surprising to hear that most managers will want to resolve these kinds of issues.
How to properly conduct a Skills Gap Analysis?
As you can see, skill gaps in the workplace aren't generally going to be of much use to anyone. On the plus side, doing a fairly small and simple analysis can be an easy process. Here's a closer look into some of the different aspects that you may want to consider:
Think about what skills are necessary for your business. Before you can do anything else, you should make sure that you have a clear idea of what's needed

Take the time to define the ideal plan for your company's needs. For example, do you want to conduct analysis on an individual basis or an assessment of your team as a whole?

Survey the skillsets of your workers. With a better idea of what methods will work for the company and what's needed, you can begin reviewing the work your employees put out

Understand the different ways you can conduct the analysis. Assessments, customer feedback and interviews are just a few examples of ways you could do this

Look to the future of your business. Aside from analysing your current goals, you should also consider your company's future objectives and plan ahead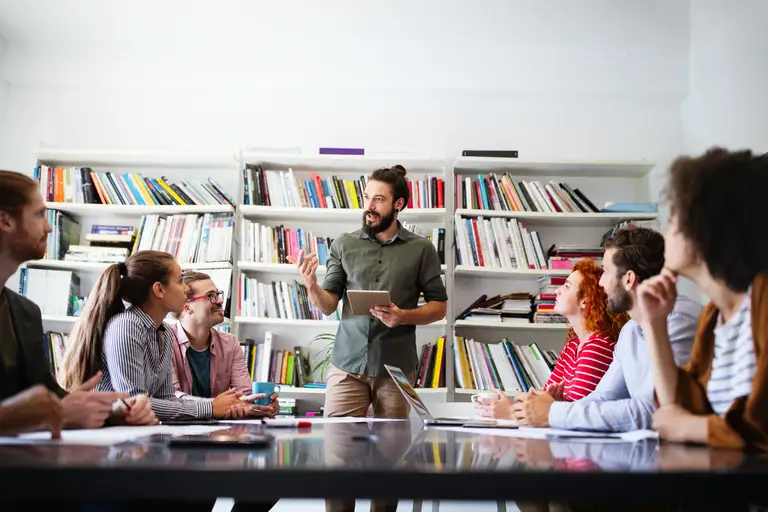 It's not uncommon for the human resources department to run a skill gap analysis to try and see how employees contribute to the company, as well as where they may need improvement. In most cases, leaving it to an experienced HR team will be a good idea. Better yet, when done properly, you're likely to see an array of advantages.
Four ways to overcome the Skills Gap in the company
As we can see from everything mentioned so far, it's not hard to see why reducing the skills gap in your business can be important. In most cases, there are simply a wide variety of benefits that can come with working on the potential issues that your company has.
Looking for some ideas on how you could reduce the gap in your business? Don't worry, as we've got three simple tips that might help you out:
Train your employees well – Providing your workers with the opportunity to learn the skills necessary for the job is usually going to be an excellent solution to this problem. From offering training in the needed skills, to creating a work environment that promotes learning; there's a lot that you can do to keep your employees up to scratch

Coaching and Mentoring – This can be a great way to close the skills gap for your employees. Coaching can assist with a less formal approach to training. Research suggests that more individuals respond better to guided education than simply being taught what to do. Coaching can offer an even deeper level of understanding for those with little to no specific skillsets

Do your research – In most cases, one of the best things you can do if you want to be successful in your endeavours and close the gap for your workforce is to learn more about what your employees need and how to resolve issues that lead to a disparity in productivity

Determine how you can make a change – Most importantly, you need to do something with the information you gather. Learn what it is your team is lacking and find ways to solve those issues. There are usually a variety of options, which is why taking the time to find the ideal strategies for your business is generally going to be a good idea
Things like increasing employee satisfaction can go a long way in making your business function better, so be aware of how you manage leave and the level of trust that you put into employees who are displaying a good work ethic when closing skill gaps. If you have staff who need to travel away from work often, be sure to give them all the information they need to avoid any inconsistencies when out of the office.
Why is the identification of the Skills Gap useful?
After looking into all these factors, from the downsides to steps you can take when conducting your analysis, you may have an idea of why identifying an issue like this can be so important within a business.
All in all, many employers will find that one of the best ways to handle this is with a skills gap analysis. In most cases, this is perfect for managers who are looking to get a better understanding of whether or not there is a skill gap, as well as how much work needs to be done to improve one.
Allowing businesses to find the ideal training methods and potentially gaining an advantage over their competition, there are quite a few benefits that can come with analysing and reducing the skills gap in your company.
Typically speaking, you can't solve an issue if you don't know it's there, so learning the key problems that a skill gap can cause is often going to be one of the best ways to tackle it. Remember to maintain a positive attitude when dealing with skill/work imbalances, as the way you treat your staff will have a direct impact on how well they perform.
If you found this post useful #share it: