Ensure Purchasing Is Done Properly With This Purchase Order Template [Free Download]
April 15 2021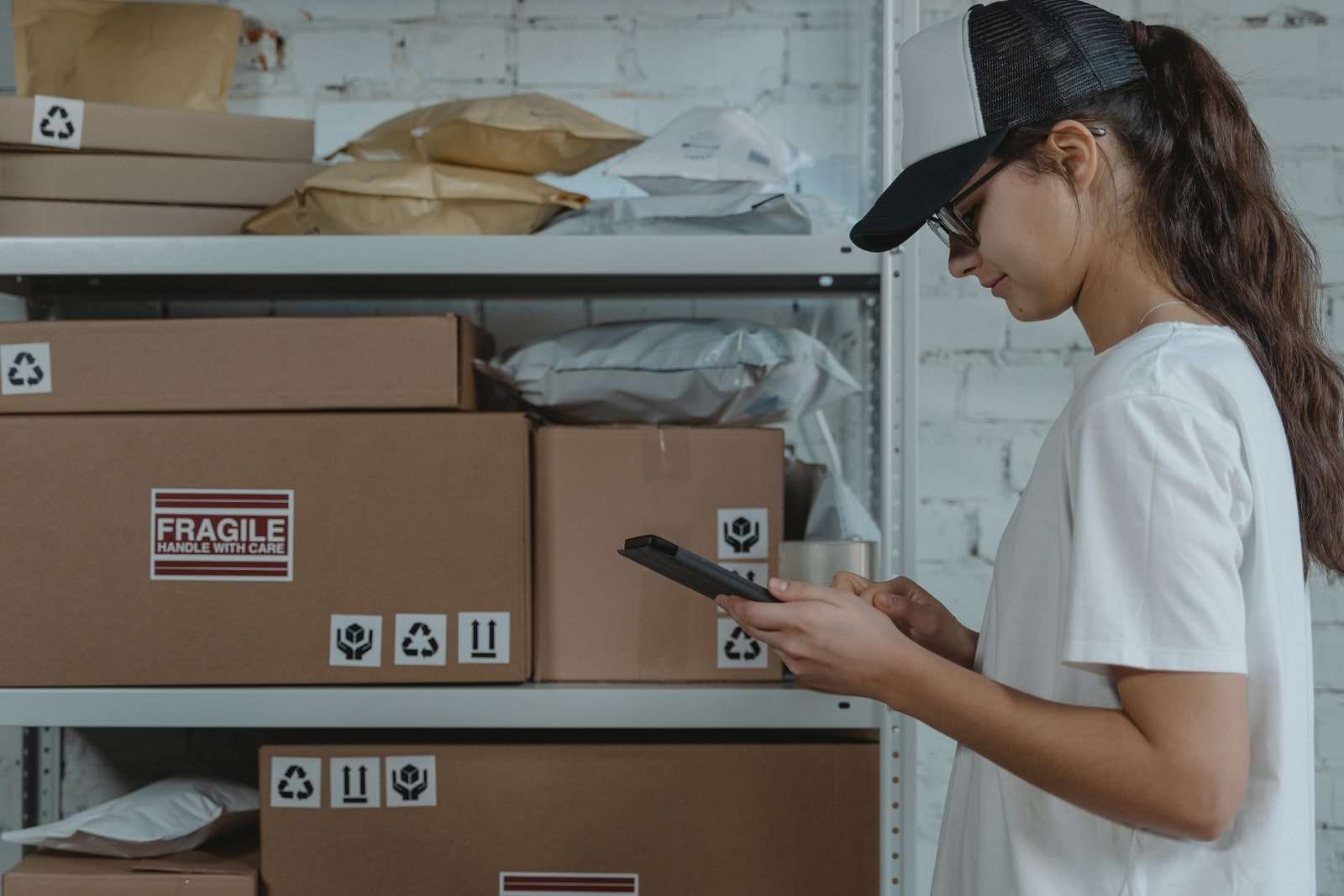 The Importance Of A Purchase Order
Purchase orders are necessities for any business. They can be used in commercial transactions between a company and vendor(s), or even between a company and a customer. Having a purchase order is important because it is a process control tool that is beneficial to any business. A purchase order provides a clear communication of various requirements with suppliers. It serves as a protective legal document between the parties involved, and is a necessity for audit procedures. Purchase orders are not considered invoices despite the fact that they are legally binding documents.
Essentials That Make A Proper Purchase Order
In order for a purchase order to be properly created, one must include detailed information about both the company and the vendor involved in the transaction. The details include sections such as the quantity of a product, its prices, the description of the product, taxation and any other payment indications that both parties agree on. If there are any issues regarding the purchase order, then the order can be deliberated between the ordering company and the vendor involved. There are other essentials needed in order to make a proper purchase order.
Provide Contact Information
When creating a purchase order, providing the contact information between both parties is required. The contact information should include the name, address, email, phone number, and any other contact information (i.e. fax number, etc.) for both companies. Because both parties use the purchase order, the contact information is needed for future transactions and communication in general.
Having A Purchase Order Number (P.O. Number)
In order for both the vendor and the ordering company to track the purchase orders, it is important to have a clear P.O. number. This ensures that both sides have the ability to access the information of the purchase order both quickly and efficiently. The P.O. number would likely be tracked within a centralized computer system. The P.O. Number is usually located in the top right corner of the purchase order.
Item Stock Keeping Unity Numbers (SKU Numbers)
Sometimes a purchase order has raw materials included. If this is the case, a purchase order should include individual stock keeping unit numbers (or SKU numbers) for each material. These numbers usually consist of eight alphanumeric digits for each item, ensuring that the correct products are selected and priced correctly. SKU numbers can help crosscheck a purchase order as well as keep track of the stock levels of products internally.
Description of Items
Item names as well as detailed information for each item (i.e. size, color, model number, etc.) are normally listed under the item description field of the purchase order. This makes each item easier to recognize and identify rather than an alphanumeric number alone.
Item Quantity
The amount of each ordered item is important to include in the purchase order. The quantity of each item should be clearly aligned with their respected product and its description. This helps in configuring the prices of the items as well as the possibilities of any back orders of items or their availability.
Prices
The prices for each product should be included in correspondence with the quantities of the items. This ensures that the amounts of each item being charged can clearly be seen. The prices usually include the price for an individual item and then the price for the quantity of said item. Normally, any discounts or sales prices are listed with the totals of the purchase order.
Subtotals, Taxes, Discounts and Totals Of A Purchase Order
Near the end of the purchase order, the subtotals, discounts, taxes, and totals are usually listed together. More specifically, you can find these totals at the bottom right-hand side of the purchase order. This way, both parties can clearly see all of the charges and the grand total of the purchase order.
Tracking Orders With Purchase Orders
Both the ordering company and the vendor often use purchase orders to help keep track of purchase agreements over time. Both parties might have a need to look at their purchase orders as a whole in order to save their money or even to increase their purchase efficiency. And although contracts and payment agreements are typically created before an actual purchase order is issued, the purchase order provides the necessary legal documentation in case of any purchasing errors or disputes between the ordering company and the vendor involved in the transaction.
Delivery/Payment Due Date
Before the purchase order is made, both parties would have negotiated the terms of payment for the items being ordered. Providing a delivery due date or a payment due date to the purchase order would allow both companies to be in agreement with the payment arrangement. Both parties would know when the order would be billed, paid, and when the items would be delivered.
The Difference Between A Purchase Order And An Invoice
A purchase order is usually drawn up prior to an invoice. Purchasing orders are usually initiated to order goods, invoices are mainly sent to request payments once goods are received. Ordering companies usually send purchasing orders while the vendors namely send the invoices.
Requisitioners
To reiterate, purchase orders and invoices are sent by different parties involved in a transaction of buying and selling goods and materials. The ordering company usually initiates a purchase order, while the vendor sends the invoice once the goods have been shipped and received. Sometimes, however, the invoice can be sent via a third-party organization.
Differentiated Requests
Requests for purchase orders and invoices differentiate just as the companies issuing the purchase order and invoices are different. A purchase order requests items to be shipped. Invoices on the other hand ask for payment to be sent.
Example Purchase Order
Sometimes issuing a purchase order can be difficult in regards to making the order clear enough for both parties to understand. Often times a company would seek out a purchase order sample, which can be generated online for a price. Seldom do companies find a free purchase order template, however in this case one has been provided for free use. This free purchase order template should provide a clear outline of how a purchase order is generated between companies, ensuring that business transactions between companies are done properly. Remember that purchase orders are legally binding documents. They should be kept for your records in the off chance that an order may be disputed.
Here's a sample Purchase Order template that can be easily customized and adapted to meet your requirements. It's free to download and use.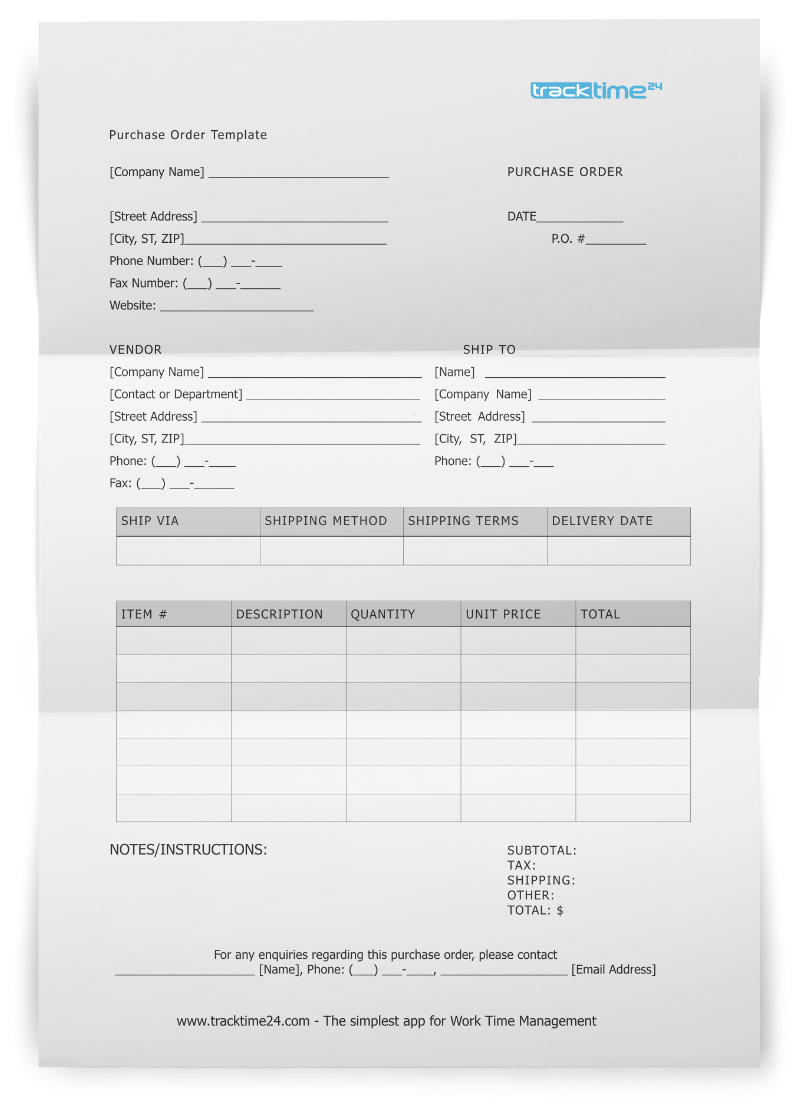 Download your FREE Purchase Order Template In .doc Word format
Download a FREE Purchase Order Template in PDF format
What is Unrubble.com?
Unrubble is the simplest app for Work Time Management, so time tracking, scheduling, and leave management work hand-in-hand!
Get rid of paper time cards, timesheets, and schedules, simplify payroll with the power of Unrubble.com. Gain access to powerful mobile apps, GPS tracking, overtime monitoring, real-time reports, and much more!
Over 40,000 users cannot be wrong!
Still having doubts? Ask yourself - Why opt for multiple, separate software, tools when you can get everything you need to manage your workforce in one dashboard?
Sign up FREE - no credit card required! One-on-one demo included.