It's 2023 and the job market has been rough this year. Many companies are saying goodbye to their staff and those that do not have another burning problem - retaining top talent. 
If you want your top employees to stay, you can give them a salary increase, better feedback, and improved management. But there is something even simpler and easier - showing them you appreciate them and their hard work.
It's easier said than though, and it may be difficult to get started. Today, we're going to show you some amazing ways to show employee appreciation, from simple to complex. 
Employee appreciation ideas to show your employees you care for them
Appreciation comes in many shapes and forms. We've rounded up some of the best ways to show your employees that their work matters and that you appreciate everything they do. There is a bit of everything here, for everyone's taste and budget.
Hand-written thank-you notes
In 2023, there are very few people who write anything by hand - it mostly boils down to typing out text. Handwritten notes feel that much more personal and when an employee gets them in person, it is bound to make them feel appreciated.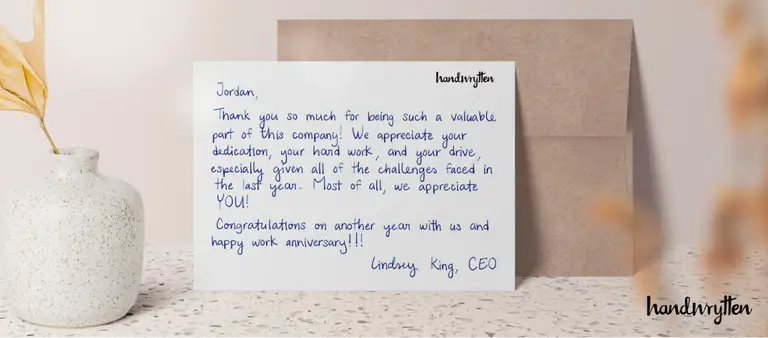 Make sure to praise their specific results and achievements and if you don't write out the note by hand, make sure to actually sign it yourself.
Celebrate employee birthdays
I used to work at a company a few years ago that took birthdays very seriously. The HR department made sure that every employee had a day off for their birthday and that they get a bonus on their paycheck to celebrate that day in a way they wanted.
That bonus was always around $50-100, which was good enough to grab a meal with someone. However, the day off was a gift from god that I learned to appreciate even more since leaving that company.
You can do one or both of these things and at the same time, celebrate an employee's birthday in the office or in Slack with appropriate messages and congratulations.
Track and reward top performers
Everyone loves public recognition, especially if it's a token of gratitude for their hard work. You can use an app like Unrubble to track how much time someone spent working at a task and keep a scoreboard. And since the output is also important, you can use other apps such as project management tools and CRMs to track closed tasks and deals.
One of the easiest ways to boost employee retention and improve employee morale is to simply show that you care when someone goes the extra mile. These employee recognition programs are super easy to set up and don't require much more than your existing tech stack.
Praise employees on social media
You probably have a company account on LinkedIn, Twitter, Facebook or maybe even Snapchat. This is a great place to show the world that you have an amazing employee who goes above and beyond every day.
Tag them, add a photo and a quote, and share how you really feel about them and their work. This is not only great for employee appreciation but also for your employee branding. Who would not want to work for a business that praises its employees in public? 
Spruce up your website
Your website is your public face and if only the CEO is plastered all over it, it's bad news bearers. Use your "About Us" page to show your entire team, from top-level management to virtual teams you never met in person. Your entire organization will feel more valued with their names and faces represented on the company website.
Give your employees a voice
Not everyone has the same preferences. Some people love getting publicly praised in front of the company (and social media audiences), while others like to keep things quiet. Some people would love a free lunch, others would appreciate a day off.
Instead of choosing for your employees, simply ask them what they would like. Not only will this make them happier, but will also provide you with countless ideas for future employee appreciation programs.
Hand out gift cards for popular stores
While this is one of the oldest tricks in the employee engagement book, it still works to this day. To keep your employees happy, offer them appreciation gift cards to popular stores such as Amazon up until a certain value.
This works for multiple reasons, but primarily, you're giving the employees a choice of what to do with that money rather than giving them company swags that they may not want.
Set up happy hours for your entire company
Happy hours are time frames when anyone in the company gets access to free food and drinks. If you want to do something great for your company culture, setting one of these up every once in a while could be a great way to break the monotony and make even remote employees happy to come to the office.
Celebrate your anniversaries
One way to have more engaged employees is to give credit where credit is due. If someone has been with you for a year, that is a significant milestone and you can throw them a nice surprise by celebrating that day or having their team leader dedicate a few minutes to highlight how important that employee is for the business.
Celebrate company milestones
Just like your employees have their own anniversaries, your company probably has a few important dates too. For example, the date when the company was founded, or a date when it was acquired by another company.
If you achieve some other milestone, such as closing a huge deal, consider celebrating that too. Don't just mention it in your company newsletters, think of fun events you can host to celebrate too. While this won't be a huge boost to employee happiness, it can improve your company culture and turn into a nice team-building event.
Encourage employee feedback
Give individual employees the freedom to provide feedback to their mentors, and not just wait for the feedback to come from the top down. If you're diligent about feedback, you can create company values of transparency, which will further drive employee loyalty and engagement. 
Give employees an opportunity to continue educating themselves
Sometimes, pizza parties are not the solution to a problem. Think of long-term effects on your business with your employee appreciation programs. Invest in educating your employees with books, courses, new equipment and tools and show them that their hard work is rewarded with more opportunities for career development.
Wrapping up
Appreciation matters, both showing it and getting it. Not only can it make your employees feel more engaged and content with their jobs, but it will also do wonders for your employer branding. Better employee experience, improved employee wellness, lower employee turnover - what's not to like?
And if you'd like to know which employees work the hardest, put in the longest hours and deserve all the praise, measuring their output is a great starting point. Grab your free trial of Unrubble today and start tracking your employees' time quickly and easily!
Frequently asked questions
What are the best types of appreciation gifts for my employees?
Only you can know - don't think of cookie cutter ideas and give everyone the same type of gift. The best approach is to add a personal touch to those gifts and think of what that employee likes. If you use an HRIS system, you can log your employees' interests and hobbies and habits in their personal lives and pick the best kind of gift for them.
How do I appreciate my hardest working employees?
You can use any of the methods mentioned above, but think of social recognition first. Show them and the rest of the company that you acknowledge their hard work and dedication.
What are some inexpensive ideas for employee appreciation?
Many of the items above won't cost your company a dime. For example, highlighting employee achievements, having scoreboards with the best employees and their results, sharing love on social media and on your website - these are all neat ways to show appreciation for employees and perhaps even increase employee productivity, all while spending almost no money.
If you found this post useful #share it: