Streamline Your Construction With This Construction Contract Template [Free Download]
September 19 2021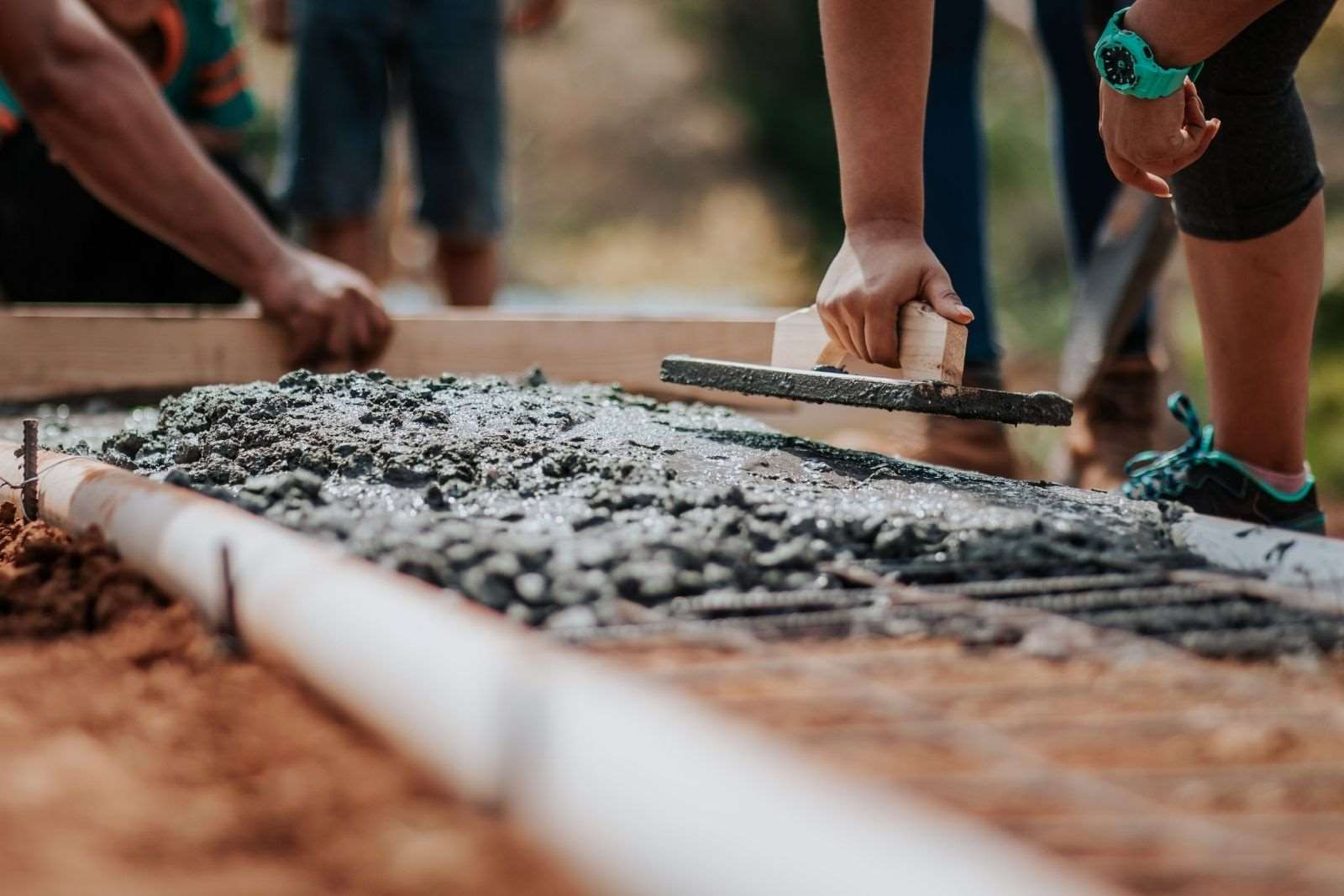 What Is a Construction Contract Template?
A construction contract template is a written agreement between the property owner and a general contractor. It covers the construction to be done, the project's timeline, and the associated fees and deadlines for payment. It can also specify elements such as warranties, damages, and insurance.
This construction contract template word can be taken into your preferred pdf software, such as Microsoft Word, to be edited and completed.
Do I Need This Simple Construction Contract Template?
Yes. This contract protects both the general contractor and the property owner. It legally binds both parties to the mentioned agreements, so neither can go against the terms of this free construction contract template pdf.
Without a contract for protection, a property owner might refuse to pay for services or demand further labor which was not originally included in the agreed price. The contractor can also create problems, whether they through demanding extra payment for unexpected expenses, purchasing the wrong materials, or causing long-term structural damage through incorrect construction methods.
Use this construction contract template free download as your first step towards drafting the perfect contract for your new project.
What Is Included in This Construction Contract Template?
This contract acts as a short, easy contract that can be altered to fit any type of construction project. The included sections are standard for any agreement and can be expanded upon or changed as necessary.
Parties and Property
This first section outlines the people between which the contract is made. The contractor is the contractor in charge of general construction, while the property owner is the person purchasing the construction service for a property they own. The property can be empty land waiting for a new building or a building requiring alterations. It is also the worksite.
Description of Work
This contract can be used in many ways, such as a new home construction contract template. Therefore, the description of work should be filled out according to your needs. Make sure to include a full, detailed description of required labor, materials, and equipment. If necessary, include separate documents outlining the exact construction plans. These can be blueprints, drawings, 3D models, or anything else relevant to the work which will be completed. You can never be too specific in this contract.
Payment in This Construction Contract Template
The most simple way of collecting payment is a lump sum, in which the property owner pays a fixed price based on the general contractor's estimated fees. This construction contract template is set up for you to fill in this fixed price. Then, you may enter details of an initial deposit by the property owner, a payment plan with set amounts being paid on certain days, and any nonpayment fee. If desired, the payment method may be specified, such as cash or bank transfer.
These details can be modified if you wish for a different contract. For example, if a payment is missed, the property owner may have a grace period before they accrue late fees or legal liability for breach of contract.
Materials and Labor
It is assumed that the general contractor will pay fees such as material prices and the cost and upkeep of equipment. The contractor should account for this in the price estimate quoted to the property owner, raising the project cost for more expensive materials.
The general contractor is also required to use equipment and materials that are in good working condition. Otherwise, poor quality materials could degrade faster over time, or faulty equipment might cause more harm than good to the structure in the long run.
Dates of Work
The contract ensures that the general contractor will begin construction on a certain date, and complete it by the stated deadline. Both parties should engage in discussion beforehand to decide the best timeline for the project, raising the overall cost if there is a short deadline. In the case of unavoidable delays such as unseen weather, both parties will want to negotiate an agreement if it will prolong the construction past its deadline.
Licenses and Permits
The property owner might not know every license and permit legally required to complete the project. They can come from state or federal laws, and can be related to the construction methods, materials, or location. The general contractor pays for these fees and for any government inspections of the project required by law.
Subcontractors
Here, the contract covers workers hired by the general contractor to complete the job. It ensures that the property owner is not responsible for their wages, training, contracts, or any other fees associated with them. It also places the general contractor liable if any harm comes to them during construction. If a worker were to damage the property, materials, or construction equipment, this would also be the liability of the general contractor. They may need to pay damages if a worker damages another structure on the property, for example.
Changes to Work
Both parties need protection from the other attempting to change the rules of the agreement. Under this section, no one can alter the price or scope of the project without written agreement from the other party. This means the general contractor cannot demand more money, and the property owner cannot request additional work for free. The construction detailed in section two must be completed for the specified price, or the offending party could be held liable in court.
Warranty
Fill in out long the work will be warranted for. General contractors often guarantee their construction anywhere from one to ten years. If a material has a higher warranty associated with it, you may wish to add a clause to extend the warranty based on those guidelines.
Signatures
Both parties need to sign here when they have read, comprehended, and agreed to the contract. These signatures are legally binding and constitute a final agreement.
Here's a sample Construction Contract template that can be easily customized and adapted to meet your requirements. It's free to download and use.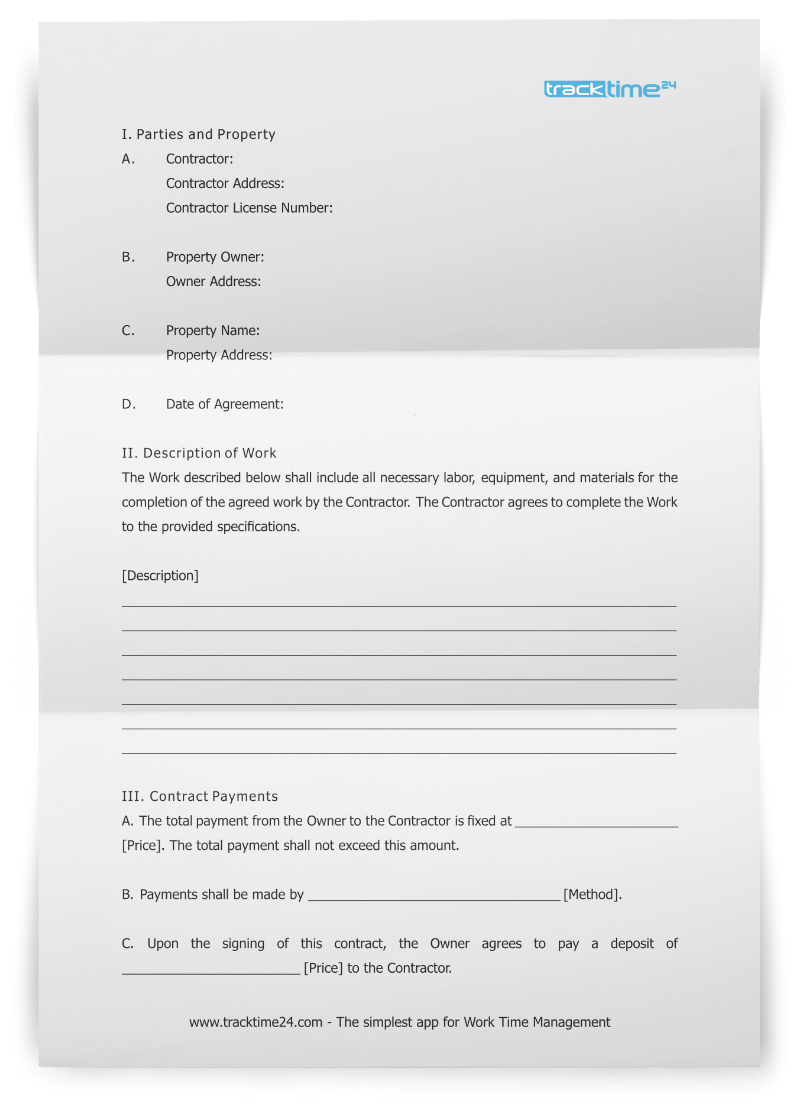 Download your FREE Construction Contract Template In .doc Word format
Download a FREE Construction Contract Template in PDF format
What is Unrubble.com?
Unrubble is the simplest app for Work Time Management, so time tracking, scheduling, and leave management work hand-in-hand!
Get rid of paper time cards, timesheets, and schedules, simplify payroll with the power of Unrubble.com. Gain access to powerful mobile apps, GPS tracking, overtime monitoring, real-time reports, and much more!
Over 40,000 users cannot be wrong!
Still having doubts? Ask yourself - Why opt for multiple, separate software, tools when you can get everything you need to manage your workforce in one dashboard?
Sign up FREE - no credit card required! One-on-one demo included.